Blue Sky Network Achieves AS9100D Certification
Blue Sky Network Achieves AS9100D Certification
NORTH WALES, Pa., July 25, 2018 (Newswire.com) – DEKRA Certification, Inc. today announced it has certified Blue Sky Network's Aerospace Quality Management System for the design and manufacture of asset tracking and communications equipment and software to AS9100D.
AS9100 is an internationally recognized series of standards for quality management systems within the aviation, defense, and space industries. These standards—AS9100, AS9110, and AS9120—have bolstered quality management for suppliers, distributors, and maintenance and repair organizations; from the largest contractors, to the smallest suppliers.
"We are delighted to welcome Blue Sky Network to the group of companies we partner with in obtaining AS9100 certification," said Chris Carson, Senior Director of Strategic Business Development for DEKRA Certification. "We also want to congratulate them on their effort in this achievement and their commitment to quality."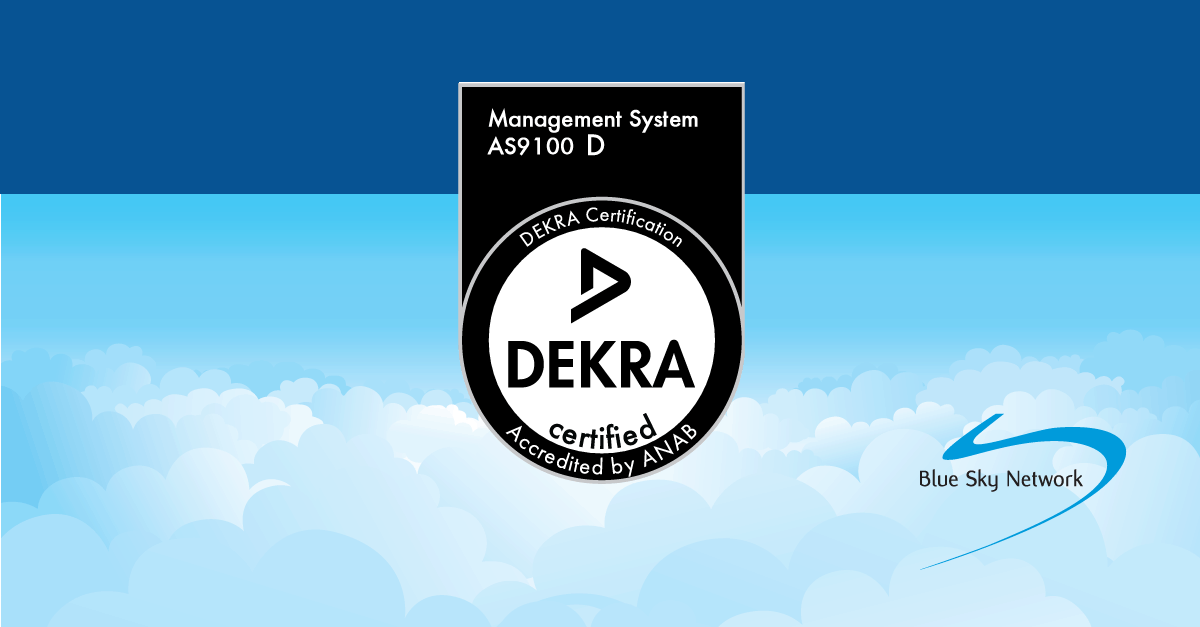 "Blue Sky Network is very proud to receive the AS9100 certification and the recognition it carries in our industry," said Gregoire Demory, Blue Sky Network President. "Though an immense accolade for our company, achieving this major certification is in keeping with our core values of high standards and excellence."
"We are very pleased to hear this news and even more excited to share it with our customers throughout the globe," said Kambiz Aghili, Blue Sky Network CEO. "Earning the AS9100 certification is another step in our total commitment to ensuring our customers receive products and services of the highest standards."
About DEKRA Certification, Inc.
DEKRA Certification, Inc. (DCI) is a U.S. based accredited certification body for international management systems. The company is part of the global footprint of DEKRA Certification Group headquartered in Stuttgart, Germany. DEKRA is a multi-accredited certification body covering all management system business line activities for North America, with a global service capacity. DEKRA offers services for ISO 9001 (quality), ISO 14001 (environment), ISO 22301 (Business Continuity), SEP (Superior Energy Performance), ISO 50001 (energy management), ISO 27001 (Information Security) and other certifications. DCI's Business Assurance group provides customized assessments in such areas as Sustainability, Energy Performance, Responsible Supply Chain, and Value Chain Risk, and many other areas. DEKRA works with companies to utilize standards for greater productivity, reduced waste, larger profits, an enhanced customer experience and the growth of a continuous improvement culture. DEKRA's experienced professionals have extensive knowledge of management system standards and a proven track record of success to help achieve the goals of any organization. For more information visit www.dekra-certification.us.
About Blue Sky Network
Blue Sky Network is an industry-leading provider of mission-critical fleet management, tracking, and operational analytics solutions serving private, commercial, and government customers worldwide. Blue Sky Network deploys innovative satellite-based communication solutions that help aviation, marine, and land/mobile customers track and manage assets in real-time worldwide, resulting in improved safety, security, operational efficiency, and profitability. Founded in 2001, Blue Sky Network is headquartered in San Diego, California, with customers and distributors in more than 50 countries. For more information about Blue Sky Network products and services, visit www.blueskynetwork.com or call +1 858-551-3894.