ALEA Expo 2016 Welcomes Blue Sky Network
ALEA Expo 2016 Welcomes Blue Sky Network
La Jolla, California – Blue Sky Network will be exhibiting at this year's Airborne Law Enforcement Association (ALEA) Expo from July 18-23 at the International Trade and Convention Center in Savannah, Georgia. The ALEA Expo brings public safety pilots, tactical fight officers, administrators, and technicians to one central location and creates an excellent learning experience for those in the public aviation sector. Come join Blue Sky Network (BSN) in this educational and networking event to learn how BSN will provide you with top of the line safety measures through our exceptional satellite tracking and communication devices.
Blue Sky Network's made-in-America solutions have helped military and law enforcement officials serve and protect for over a decade. Now serving customers in seven continents and 50 countries worldwide, we are the only global SATCOM provider that has the expertise to serve the growing aviation, marine, land-mobile, and personal security industries. With the industry's best-in-class tracking equipment and innovative cloud-based software, we strive to provide you with nothing short of the utmost safety and efficiency in your daily operations.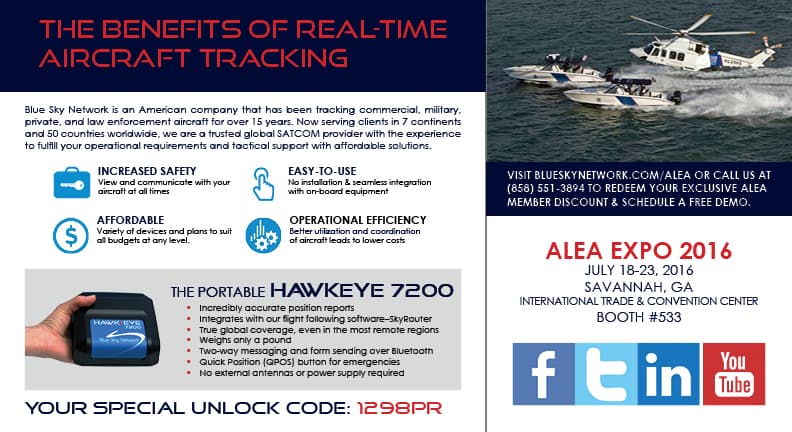 Come visit our ALEA conference booth #533 and learn more about how Blue Sky Network helps law enforcement officials serve and protect. Also, don't forget to mention your special unlock code for an exclusive ALEA member discount. For more information on Blue Sky Network and details about ALEA Expo 2016, please call 858-551-3894 or visit www.blueskynetwork.com.
Location: Savannah, Georgia
Dates: July 18-23, 2016
Booth: #533
Event Page: http://alea.org/alea-expo-2016-savannah-ga
---
Blue Sky Network is a pioneer in the development of satellite tracking and two-way communication for remotely active private, commercial, and government fleets worldwide. Today, Blue Sky Network is an industry leading developer and supplier of complete global SATCOM solutions for the aviation, marine, and land-mobile industries. Blue Sky Network's interactive web portal, SkyRouter, offers extensive tracking, communicating and managing functionality without the expense and difficulty of additional computer hardware/software.