Blue Sky Network's Aircraft Tracking Systems in Indonesia
Blue Sky Network's Aircraft Tracking Systems in Indonesia
La Jolla, California – It is no secret that Blue Sky Network's aircraft tracking systems are relied upon to assist operations in some of the remotest regions of the planet. Being a Tier-1 Iridium partner, our devices are connected to the powerful constellation of 66 low earth orbiting (LEO) satellites, meaning true global connectivity.
One user of our devices that appreciates Blue Sky Network's 100% global coverage is pilot Matt Dearden of Susi Airline, a charter company that flies to some of the furthest corners of Indonesia. What started out with a simple tweet from Matt commending the ACH1000's ability to send two-way messages, turned into a brief interview with him about flying in these remote areas, and how Blue Sky Network's devices help mitigate some of the associated challenges.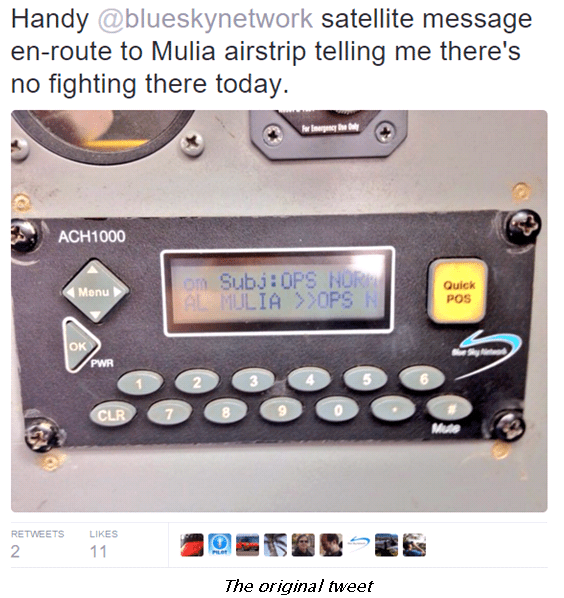 Here is the full transcript!
How did you end up flying for Susi Air?
Quite by accident really! I learnt to fly in the UK as I was getting increasingly bored with my 9-5 IT job and imagined I might end up working for one of the local airlines back home. However, I got my commercial pilot's license right at the beginning of the global recession in 2008/9. As there were no jobs back in Europe I applied everywhere I could anywhere in the world. A friend of mine told me about Susi Air so I applied, got an interview and eventually the job towards the end of 2009 as a co-pilot on the Cessna C208 Grand Caravan. Over the last six years or so, I have worked my way up through the company and now fly the Pilatus PC-6 Turbo Porter, single pilot, in the mountains of Papua which is pretty much the ultimate bush flying job and I love it!
I've done a little digging and found out that you were in a documentary series titled 'Worst Place To Be A Pilot' – how did that come about?
A film maker and friend of a colleague of mine had seen my videos and photos online and contacted me about the possibility of making a TV series about the flying we do. He came out and filmed some promotional material to see if he could get someone to commission the series in the UK. Channel 4 said yes, so at the beginning of 2014 the production team came out to Indonesia to begin the filming. It took around 3 months in total to shoot and a further 6 months being edited before being released in late summer back in the UK. It was then sold all over the world to various networks and can still be found on YouTube. Sadly for reasons I don't quite understand, there are no plans for a second season.
You fly in some of the most remote regions in the world, what kind of difficulties accompany this sort of flying?
The two main problems we face daily with flying in Papua are the weather and the terrain. The former is typically equatorial thanks to the tropical climate which produces large build ups and thunderstorms throughout the year. Combined with the largely mountainous terrain this makes for rather hazardous flying conditions. The highest peak in Papua is just over 16,000ft tall and has snow on the top all year round – when it's not sitting in the clouds that is!
Which of Blue Sky Network aircraft tracking systems do you use? Do you feel our products help tackle some of the challenges you face flying in Indonesia?
The majority of our aircraft are equipped with the ACH1000 with some of the newer ones being equipped with the later HawkEye portable tracker and tracker plus units. The knowledge that you are being tracked whilst flying over some of the world's most hostile terrain is very comforting should anything happen.
What features do you like/use the most?
Quite often we have to divert into a different airstrip due to the weather conditions or get stuck somewhere waiting for the weather to clear so the ability to send out a short code to our operations departments keeps them in the loop as to what is happening. We also receive messages about weather conditions at our destination or if there is any other issues we need to know about before landing. Getting this up-to-the minute information is very useful to us pilots and helps improve safety over what is a notoriously dangerous region to fly in.
…………………………………………………………………………………………………
For any lover of aviation Matt's adventures in Indonesia are fascinating. While we would have loved to delve further into his experiences as a pilot there, we were conscious of time constraints. As Matt noted Susi Air "is a little busy currently with pre-Christmas flights, taking various local people back to their home villages for the holidays."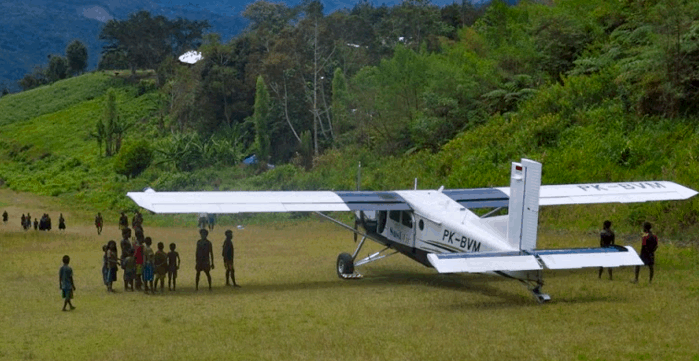 However, to learn more about Matt check out his personal website called the Bush Flying Diaries  which chronicles the ups-and-downs (mostly ups) of being a bush-pilot in Indonesia. It also well worth watching the series titled "Worst Place to be a Pilot" which can be found on YouTube here: https://www.youtube.com/watch?v=p_3WpCfKI9w. We love hearing how are aircraft tracking systems help pilots in difficult flying conditions such as Matt.