Blue Sky Network Showcases Aircraft Tracking and Communication Devices in Las Vegas for NBAA2015
Blue Sky Network Showcases Aircraft Tracking and Communication Devices in Las Vegas for NBAA2015
Las Vegas, Nevada – What happens in Vegas, stays in Vegas…right? Not exactly. Here at the Blue Sky Network HQ in California, we are keeping updated on the events of the National Business Aviation Administration (NBAA 2015) in Las Vegas, Nevada. Sales Director Nick Tucky and Business Development Representative Jeff Sherwood, were busy rockin' and rolling on both the opening day of the show in the city that never sleeps (sorry New York). By day two, there were reinforcements with Jon Gilbert, CEO and President, as well as Lillie Cheung, Executive Vice President, both spending day two at booth #C7726. Manager of Finance & Operations Frank Trieu and Business Development Representative Peter Soto also joined the team at NBAA 2015. Nick and Jeff noted that it was brilliant having more of the team there to showcase Blue Sky Network's products.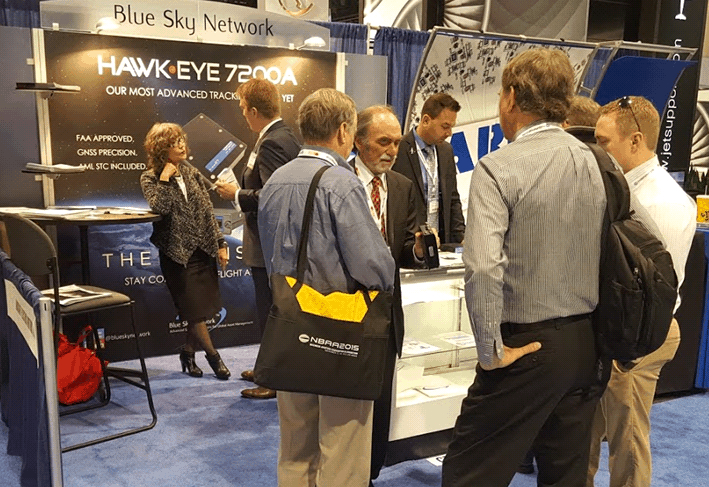 The main attraction of Blue Sky Network's booth this year was the HawkEye 7200A, the newest edition to our suite of aircraft tracking and communication devices, and the most advanced. Customers were fascinated by the size and weight of the device, which is no surprise given that it weighs less than a pound. To put this into context, saving 5 pounds from a device would allow the operator to have almost an extra gallon of fuel on board. We also have to remind customers that this device is not only impressive because of its physical attributes, but because it has an AML STC, features pinpoint tracking with GNSS precision, Bluetooth connectivity, and ICAO GADSS qualifying specifications. We can go on about the HawkEye 7200A specs for days, but nothing beats seeing the astounding reactions of clients when they held the actual unit in person.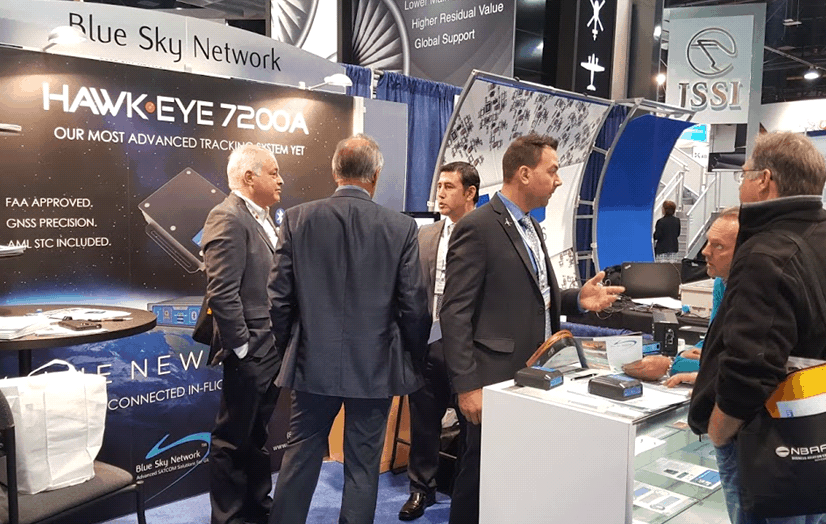 With a steady flow of present and potential customers coming through our booth on both days, the team was busy discussing the features and capabilities of Blue Sky Network's products. In between this, Nick found time to teach customers how to use products such as the HawkEye Link, an easy-to-use application, compatible with both iOS and Android, that enables Iridium two-way email and short-code messaging capabilities directly from your smartphone or tablet. Our team was also able to demonstrate some overlooked services that we offer, such as geofencing, custom forms, and our mobile apps.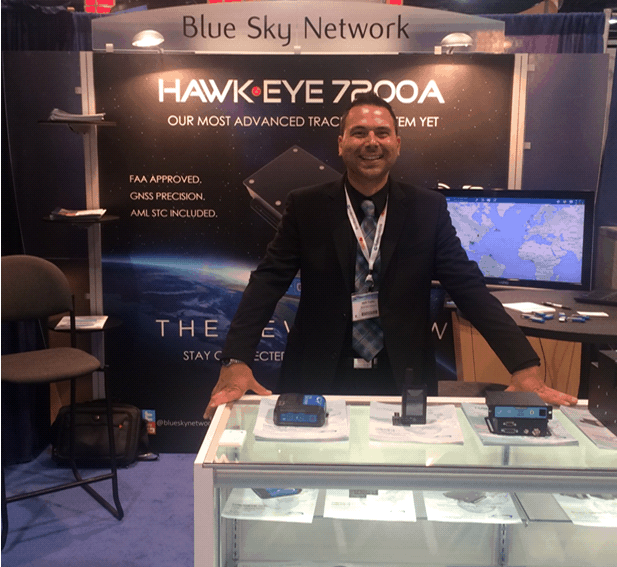 With our commitment to offering reliable tools for software management, it's no surprise that there was also a lot of interest from air charter and corporate flight departments in SkyRouter, our industry leading back-end web portal. Many of the operators Jeff spoke with were specifically interested in the seamless flight management, custom forms, playback features and automated alerts aspects of SkyRouter.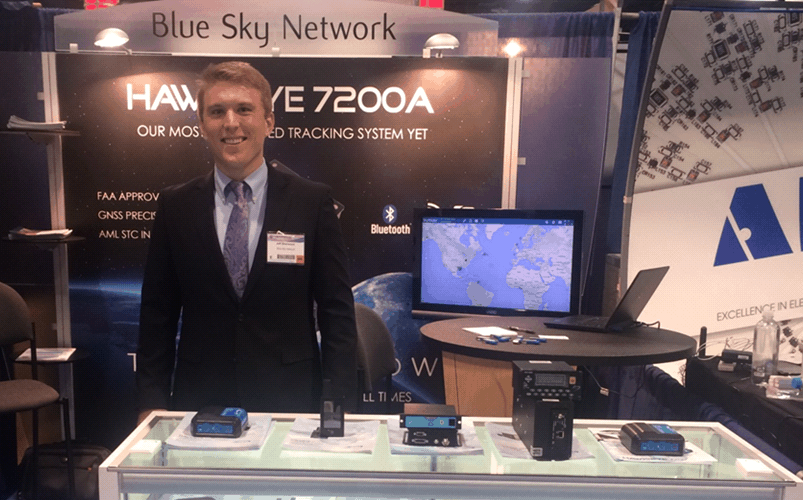 As always, we treasure the opportunity to catch up with current customers at NBAA 2015 as well as meet new people we can introduce our aircraft tracking and communication devices to, people who are as passionate about aviation as we are. If you haven't already made your way to #C7726, today is your last chance, so make sure to do so!