Cinco Air Charter LLC Chooses Blue Sky Network for Satellite Tracking
Cinco Air Charter LLC Chooses Blue Sky Network for Satellite Tracking
The result? Another Happy Customer
La Jolla, California – The saying goes "anything worth doing is worth doing right". Here at Blue Sky Network we believe in doing things right. You don't have to take our word for it though. See what our customers have to say about our aircraft satellite tracking devices.
On a recent trip to Midway Atoll, Tim, Director of Maintenance at Cinco Air Charter LLC, sent us an e-mail to let us know that the "data was perfect, every two minutes on the dot. The crew reported full Iridium signal the whole trip". Not surprising given that the HE7200 is the perfect portable charter flight tracker for pinpoint aircraft flight tracking, reliable communication and maximum personal security. That's not all he had to say about his experience with Blue Sky Network:
"Cinco Air Charter LLC. is under contract with the U.S. Fish and Wildlife Service (USFWS) Honolulu, Hi to support its operations on Midway Atoll and Palmyra Atoll. Cinco utilizes a Gulfstream III and a Falcon 50 corporate aircraft. One of the conditions of this contract is that Cinco utilizes an Automatic Flight Following (AFF) on board. After Cinco was awarded the contract we only had three days to be AFF compliant. We chose the Blue Sky Network 7200 and are very glad we did. Even the compliance officer representing USFWS was impressed with its portability and flexibility. After a few flights the Blue Sky Team modified the 7200 to a 7200X and this allowed for the unit to connect to a top fuselage mounted Iridium antenna to improve connectivity.  This modification made for a simple cost effective setup that has proven to be very effective and pilot user friendly. We at Cinco are proud to have the Blue Sky 7200X in our aircraft to support Midway and Palmyra Atoll."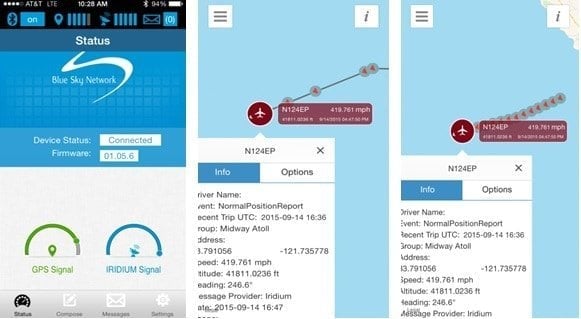 In response to Tim's flattering comments we can say that we are proud to work with a company as dedicated to supporting the highest levels of safety in its VIP transportation service to Hawaii, Europe, and beyond, as Cinco Air Charter LLC.  The company has instilled the focus of safety and service in all of its employees, and this has led to solid growth and success. In addition to VIP transport, Cinco Air is actively pursuing new ventures and opportunities in the medical transport industry. We look forward to working with them in the future to support their high safety standards.
For more information about Blue Sky Network's aircraft satellite tracking and other services, please visit www.blueskynetwork.com or contact one of our Sales experts at (858) 551-3894.
About Blue Sky Network
Blue Sky Network is a pioneer in the development of satellite aircraft flight tracking and two-way communication for remotely active private, commercial, and government fleets worldwide. Today, Blue Sky Network is an industry leading developer and supplier of complete global SATCOM solutions for the aviation, marine, and land-mobile industries. Blue Sky Network's interactive web portal—SkyRouter—offers extensive tracking, communicating, and managing functionality without the expense and difficulty of additional computer hardware/software.
Press Contacts:
Frank Trieu
[email protected]
Sales
[email protected]
(858) 551-3894