In early 2004, Blue Sky Network teamed up with Steve Fossett and the Virgin Atlantic Global Flyer team to provide global flight tracking, engine monitoring and 2-way email messaging for the first around the world flight performed solo and non-stop. The Global Flyer was equipped with Blue Sky Network's D1000 satellite tracking solution and a portable Iridium phone.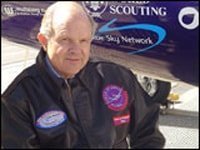 Since he had already circumnavigated the Earth in this single-engine jet aircraft as well as a hot air balloon, his goal with this record adventure was to exploit the capabilities of the Virgin Atlantic Global Flyer to see how far he could safely go.
Blue Sky Network has been a proud sponsor of Steve's activities. Steve was using our D1000 for his global flight tracking, email messaging, weather and telemetry requirements and one of our 9505A Iridium satellite phones for his aircraft communications. Our "best-of-breed" non-stop tracking components are built on our ideas married with customer input like variable rate tracking reports based on time and/or distance or virtual geo-fences, and integrating current technologies, like robust Bluetooth connectivity. We've lead the market with advanced engineered solutions for flight following like dual-mode (GSM-Iridium) devices that take care of least cost routing in overlapping coverage environments.