New SkyRouter Provides Fleet Management to Air Greenland Charter, Serving the Remote Arctic Region
New SkyRouter Provides Fleet Management to Air Greenland Charter, Serving the Remote Arctic Region
Blue Sky Network's cloud-based fleet management solution provides tracking and communication in the northern-most latitudes via the Iridium® Satellite network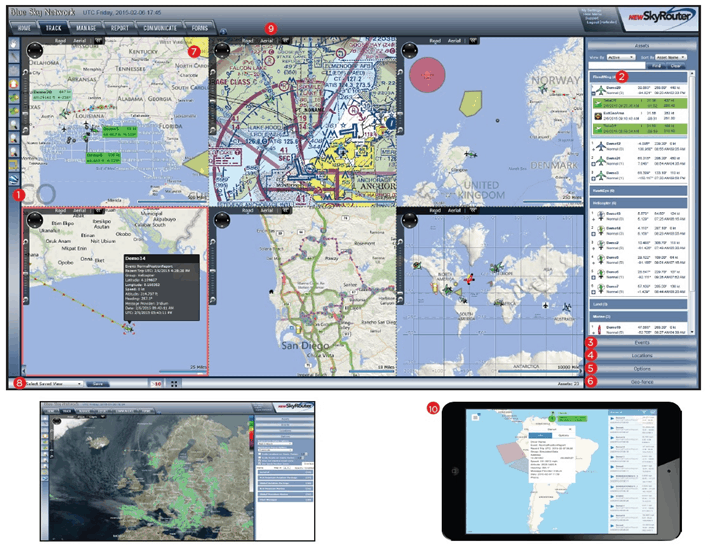 La Jolla, Calif. – February 19, 2013 – Blue Sky Network, a leading global provider of satellite tracking and communication solutions for aviation, land and marine, announced today that its fleet management portal, New SkyRouter, has been selected by Air Greenland, a helicopter and fixed wing operator in the Arctic. New SkyRouter is a feature-rich, cloud-based solution that enables constant connectivity with mobile assets dispersed in remote locations. Combined with Blue Sky Network's Iridium Satellite-based products, New SkyRouter provides Air Greenland constant connectivity and coverage in the northern-most latitudes.
Air Greenland's Charter department specializes in Arctic aviation, mineral exploration, and offshore search and rescue missions. Its aircraft and helicopters fly in secluded areas where communication is difficult, and sometimes even impossible. With New SkyRouter and Blue Sky Network's Iridium Satellite based products, Air Greenland fleets will benefit from a reliable communication and fleet management solution that includes advanced tracking technologies and pole-to-pole connectivity with assets across the globe – features not attainable through other satellite networks.
"We have over 50 years of experience flying in the harsh Arctic climates and our flights frequently venture into extremely isolated locations where communication is spotty or virtually non-existent," said Hans Peter Hansen, charter manager at Air Greenland. "Blue Sky Network's New SkyRouter combined with their variety of product offerings provides us something others simply cannot – constant fleet connectivity. Given our flight routes to some of the most distant northern areas, we need the most reliable solution available; Blue Sky Network and Iridium make that possible."
Incorporated with the New SkyRouter is Blue Sky Network's industry-leading D1000 aviation series hardware. The D1000 aviation series provides reports such as GPS position, take-off/landing, altitude, and on/off gate to make it easy for fleet managers to control their aircraft. More importantly, in aviation emergencies the crew can push a quick position (mayday) button on the control head which immediately sends an alert to New SkyRouter, notifying fleet managers. A satellite voice connection can also be achieved when used in combination with Blue Sky's ACH1000. This complete solution has been known to improve overall safety and increased productivity in day-to-day fleet operations.
"We are excited to have Air Greenland adopt our next-generation fleet management web portal solution and industry leading tracking products," said Blue Sky Network CEO and founder, Jon Gilbert. "This partnership validates our position as an industry leader in tracking and communication solutions worldwide."
About Air Greenland:
Air Greenland is the national carrier of Greenland with approximately 400,000 passengers annually. The company was founded in 1960, is owned by SAS, The Danish State and The Government of Greenland and employs 550 people – most of whom work and originate from Greenland. The company's turnover is 1.2 bill. Danish Kroner.
Air Greenland has the most versatile fleet in the world operating AS 350, Bell 212 and Sikorsky S-61N helicopters as well as Airbus 330-200, DHC7, DHC8 and Beechcraft B200 King Air fixed wings. The network includes Greenland, Denmark, Iceland and Canada and Air Greenland is strong on both passenger, mail and cargo schedules as well as unscheduled flights within the areas of VIP transport, drill moves, prospecting and the like.