On December 5th 2006, Polar First launched their second attempt to set a record to circumnavigate the globe by way of the North and South Poles. With Blue Sky Network's D1000A satellite communication system and telemetry terminal with embedded GPS, Jennifer Murray and Colin Bodill's Bell 407 helicopter commenced their journey maintaining constant communication with on-ground support during the 36,000-mile, 175-day trip.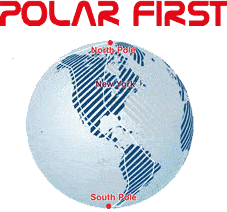 Polar First crashed during the original attempt in 2003. The Blue Sky Network system and web-based SkyRouter, alerted and directed emergency crews to the exact location of the crash and got them help immediately. The crew believes this solution saved their lives.
"Considering the inherent danger of a flight like this, and our own personal experience, it is a relief to know we can rely on the Blue Sky Network flight tracker to keep us in contact with our crew on the ground at all times, no matter where we are."
– Pilot Jennifer Murray, Polar First
Ground staff will have instant access to the exact position of the helicopter during their trans-polar flight, an essential factor in keeping the flight team safe as they circumnavigate the globe.