Blue Sky Network, Applied Satellite Engineering Join Forces
Blue Sky Network, Applied Satellite Engineering Join Forces
Blue Sky Network acquires leading SATCOM manufacturer to broaden capabilities, services
SAN DIEGO— Sept. 24, 2018 — Blue Sky Network (BSN), an industry-leading provider of satellite tracking, data, and communication solutions, today announced it acquired Applied Satellite Engineering (ASE), a leading designer and manufacturer of advanced satellite communication (SATCOM) equipment.
"We are excited to join forces with ASE and bring on their impressive portfolio of SATCOM products," said Gregoire Demory, BSN president. "Our combined offerings will now give our customers even more options with solutions for maritime, land, machine-to-machine (M2M), push-to-talk, and anti-piracy applications."
"We are thrilled to strengthen our combined reseller channels with ASE while adding locations in Arizona and Ireland. ASE can now leverage our fleet management and data analytics portal to offer connectivity health monitoring and surveillance oversight for advanced M2M and resilience systems globally," said Kambiz Aghili, BSN CEO.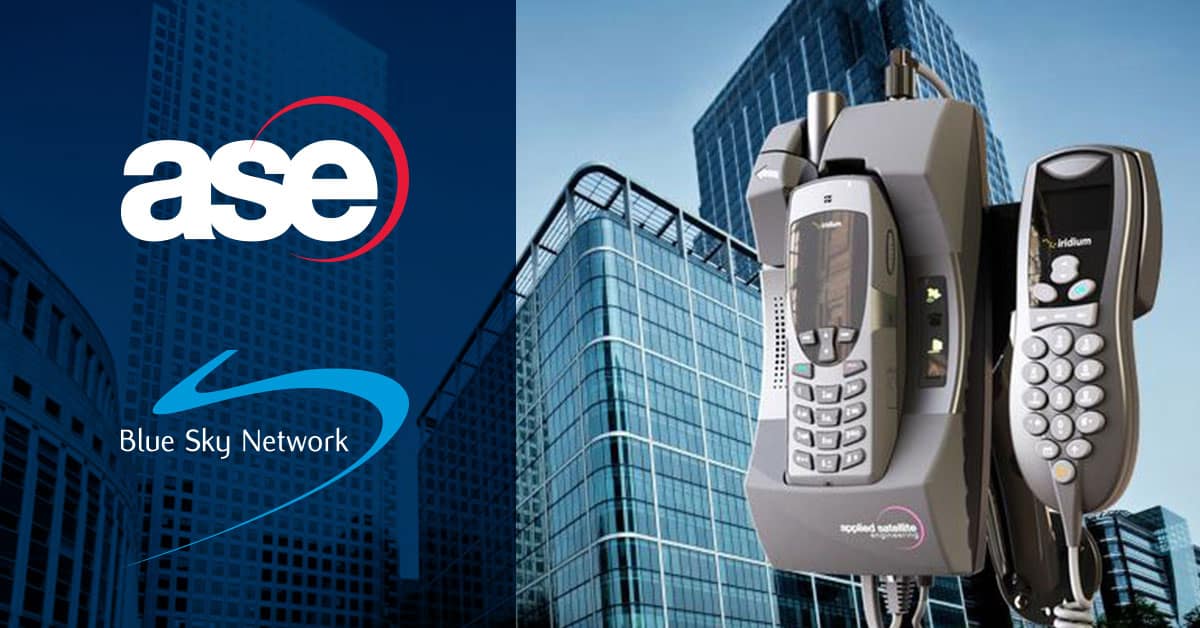 "Blue Sky Network is a quality-focused organization providing top-tier solutions to their customers. ASE is very happy to be joining this outstanding group," said Jeff McFarland, ASE president. "We look forward to helping our dealers grow their businesses with our expanded offerings and new, innovative solutions."
Both BSN and ASE have been Iridium value added manufacturers since 2004 and will continue to develop innovative products and services leveraging Certus, the advanced new multi-service platform powered by the Iridium NEXT constellation.
About Blue Sky Network
Blue Sky Network provides industry-leading fleet management, tracking, and operational analytics solutions serving private, commercial, and government customers worldwide.
Blue Sky Network deploys innovative satellite-based communication solutions that help aviation, marine, and land/mobile customers track and manage assets in real-time, resulting in improved safety, security, operational efficiency, and profitability.
Founded in 2001, Blue Sky Network is headquartered in San Diego, California, with customers and distributors in more than 50 countries. For more information about Blue Sky Network products and services, visit www.blueskynetwork.com.
About Applied Satellite Engineering
Applied Satellite Engineering is recognized worldwide as a pioneer and pacesetter in the design and manufacture of advanced satellite communication equipment.
ASE's superior line of products is manufactured in the U.S. to rigorous quality and performance standards.
Founded in 2002, the company has attracted a large and loyal customer base by providing trusted solutions for maritime, land-based, corporate centers and base headquarters needs. For more information on ASE, visit www.ase-corp.com.
For more information, press only:
Carlos Gomez
+1 858-551-3894
[email protected]