Blue Sky Network Ships SkyLink Data Management Solution
Blue Sky Network Ships SkyLink Data Management Solution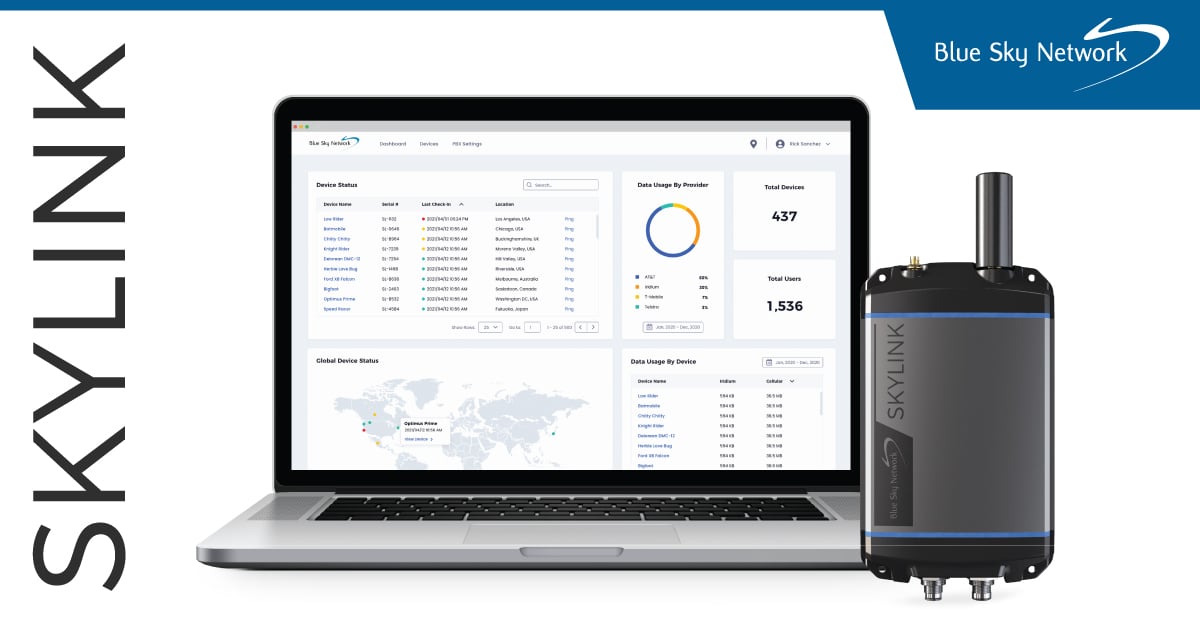 San Diego, CA, October 20, 2021 – Today, Blue Sky Network announced SkyLink, a dual-mode data management solution for land, air, sea, and IoT applications, has shipped out to customers. This comprehensive software and hardware configuration was specifically engineered to capture and disseminate mission-critical information from any location.
SkyLink by Blue Sky Network is powered by award-winning Iridium Certus® satellite technology and it also uses local GSM/LTE networks to create an innovative low-latency, dual-mode, cloud-based service solution. The SkyLink ecosystem consists of lightweight, small-form factor devices, and powerful web-based applications that deliver internet connectivity and a suite of IoT/M2M capabilities to and from any place on Earth.
Devices can be installed in a vehicle, carried by a lone worker, affixed to an outdoor mast, or mounted inside a building, vessel, or aircraft. As a certified Iridium Connected® solution, SkyLink is ideal for use in areas where satellite service is required, cellular connection is spotty, or assets are moving in and out of cellular range.
Recently, SkyLink won the 2021 MSUA Satellite Mobile Innovation Awards Chairman's Award for Outstanding Innovation. The Mobile Satellite Users Association (MSUA) is a global not-for-profit organization focused on amplifying the voice of satellite mobile services users and innovators. SkyLink was honored with this award because it "provides a versatile air, land, and sea solution that enhances the safety and efficiency of operations, even in the most remote, austere locations on the planet," according to the MSUA. Iridium Executive Vice President Bryan Hartin added, "Blue Sky Network has exceeded expectations with the creativity and versatility of their Iridium Certus midband solution. Iridium Certus is a unique service platform in that it's able to scale in both device size and speed to meet the end-user needs, and BSN nailed it with SkyLink."
"We are proud to be shipping the inaugural Iridium Certus midband solution for land mobile, IoT and maritime markets'', said Tucker Morrison, CEO of Blue Sky Network. "There is an immediate need for this platform of solutions and the dedication from our Blue Sky Network team has paid off. Our end users were also instrumental in form and function, and it has been rewarding to witness its success in action."
In June 2021, Blue Sky Network announced its partnership with Maritime Tactical Systems, Inc. (MARTAC), an innovator in Maritime Unmanned Surface Vessels (USVs), and began integrating SkyLink on its vessels with great success. "We are very excited to be working with Blue Sky Network's leading edge, low SWAP, multi-carrier network for our USVs. Our Devil Ray and MANTAS vessels operate beyond human capability and therefore reliable, robust, low-latency communications anywhere in the world is critical," said Tom Hanson, COO of MARTAC.
About Blue Sky Network
Blue Sky Network is an industry-leading provider of mission-critical fleet management, business continuity, and operational analytics solutions, serving commercial and government customers worldwide. Since its founding in 2001, Blue Sky Network has been a partner of choice to track, manage, and optimize high value-assets in real-time anywhere in the world for improved safety, reliability, and operational efficiency.
Blue Sky Network is headquartered in San Diego, California, with over 450 customers and dealers in more than 50 countries. Additionally, Blue Sky Network holds ANATEL certification and maintains additional offices in São Paulo, Brazil, and Scottsdale, AZ. For more information about Blue Sky Network products and services, visit www.blueskynetwork.com or call +1 858-551-3894.
Blue Sky Network is an Iridium service provider and value-added manufacturing partner.
—
Did you enjoy this post? Sign up for our newsletter to receive similar articles directly in your inbox!