A premier Iridium voice communication solution for your emergency preparedness and business continuity plan.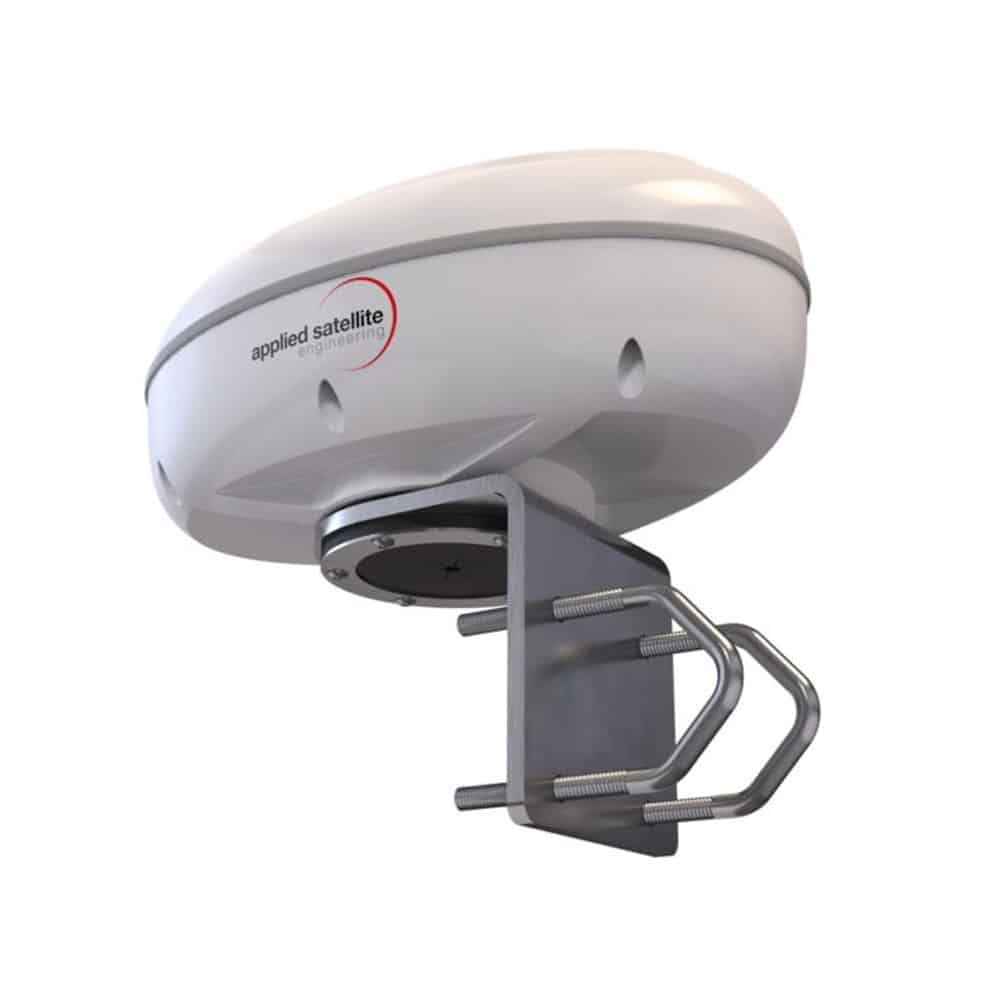 The Comcenter Outdoor allows for an Iridium Satellite phone to be mounted adjacent to the antenna, and therefore eliminate the cabling distance altogether. From single-level structures to the world's tallest buildings, this fixed station terminal eliminates the challenges of using satellite voice indoors.
Details

The ComCenter Outdoor's weatherproofing passes the rigorous IEC 60645 Maritime Standard and meets flammability tests (IEC60332 and UL1541) for installation onboard ships. The robust turret connectors are quick to use and will not experience the potential aging problems of simple coax connectors. Simply mount the ComCenter Indoor using an "L" bracket with V-Bolts that can be rotated 90 degrees to find mounting on rails (horizontal mount) or vertical pipe. The elliptical shell design has no flat surfaces, rendering it aerodynamically worthy of a hurricane.
Features

Cable runs up to 100 meters or more
Phone cable extensions to 4000 meters
RJ11 phone connection (analog phone)
Integration into office PBX phone system
Meets maritime standards
Cable meets rigorous flammability requirements
Rugged "L" bracket
V-Bolts attach to a wide range of structures
Mount in horizontal (rail) or vertical (pipe) orientation
Technical Specifications

ELECTRICAL SPECIFICATIONS

Operating Voltage: 9 – 36 VDC
Power Consumption: 12 Watts (Avg Active)

ENVIRONMENTAL SPECIFICATIONS

Operating Temp Range: -20ºC to +70ºC
Exposure: Outdoor – meets IEC60945

MECHANICAL DIMENSIONS

Dimensions: 11.2L x 6.7W x 5H inches (28.5 x 15 x 12.7 cm)
Weight: 3.0 lbs (1.3 kg)
Mounting: Pole or Surface

SHIPPING DIMENSIONS

Dimensions: 20L x 14W x 14H inches (51 x 36 x 36 cm)
Weight: 31.0 lbs (14 kg)
Documentation
Blue Sky Network is ready to help ensure you are able to connect reliably and with confidence. Have questions about how our solutions can help meet your connectivity needs? Contact us today
Purpose built for these key industries
We offer reliable, custom-design solutions powered by the world's most advanced network to solve any connectivity challenge across land, sea, and air.
Business Continuity

Eliminate downtime and maintain communications that allow your business to run smoothly no matter the challenge.

Disaster Relief

Communication solutions that enable emergency management teams to provide greater and more strategic disaster recovery relief.

First Responders

Hardware, software, IoT trackers, and dashboard solutions that offer advanced connectivity, remote monitoring and sensing for first responders.

Exploration & Research

Seamless connectivity that facilitates rapid data transfer, crew safety in the field, and optimal exploration and research outcomes.

Global Government

Enabling strategic decision-making, secure tactical correspondence, and operational efficiency across government and military missions.

Humanitarian & Aid

Communicate with personnel delivering essential supplies in high-conflict zones, monitor assets and response teams, and determine more strategic resource distribution.

US Government

For operational efficiency, enhanced asset safety, and real-time situational awareness for U.S. government and military success.

AC Power Cable to be used with ComCenter II – Outdoor
Learn More
The Blue Sky Network Advantage

Unprecedented Global Coverage
World-class solutions powered by Iridium's cutting-edge satellite infrastructure deliver seamless connectivity and total asset visibility, no matter how far off the beaten path your operations take you.

Global, solutions-driven team leveraging deep industry expertise to engineer advanced solutions trusted by governments, NGOs, and blue chip companies to connect, track, and secure their most valuable assets.

Intuitive, all-in-one solutions
Small form factor hardware and innovative cloud-based software are custom-designed and packaged to offer real-time communications and insightful analytics for your precise operational, device, network, and app needs.