DK050 Docking Station: Iridium 9555
Blue Sky Network's Iridium 9555 docking station provides customers in buildings, vehicles, and vessels with a dependable and critical lifeline via the Iridium satellite network.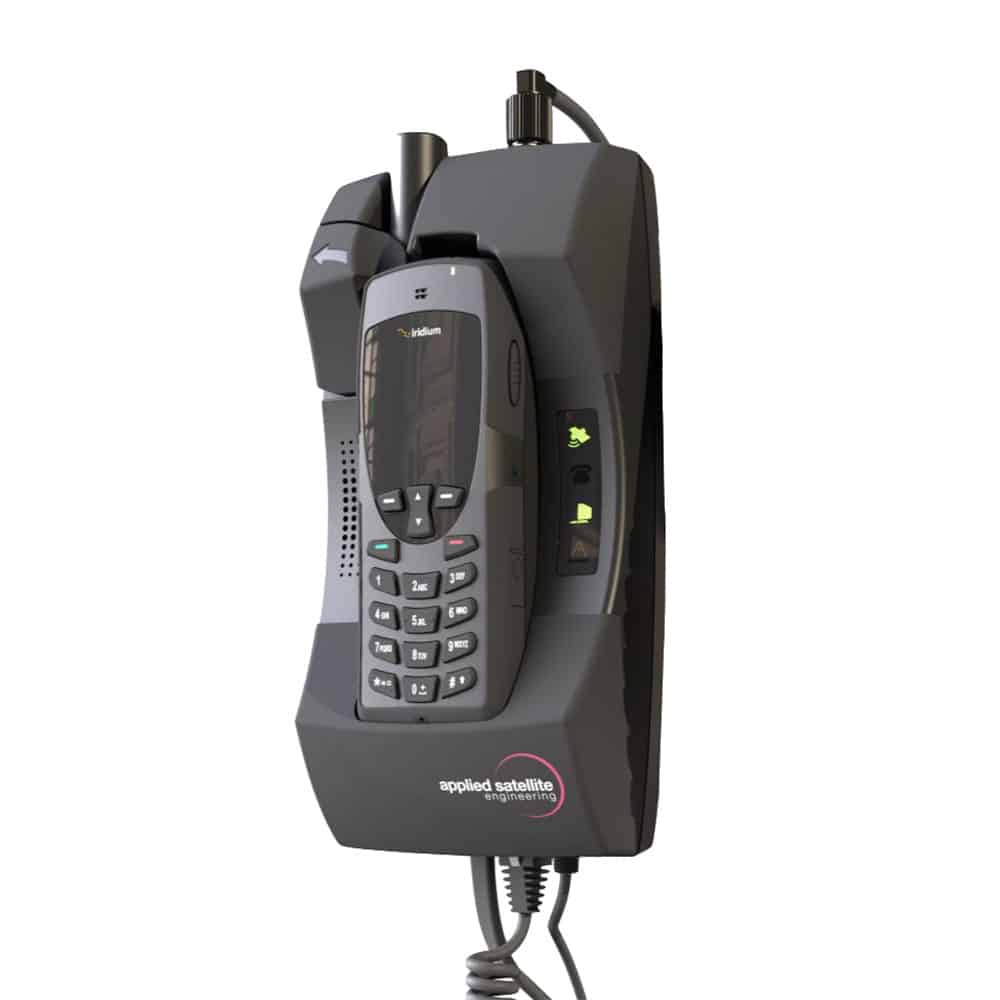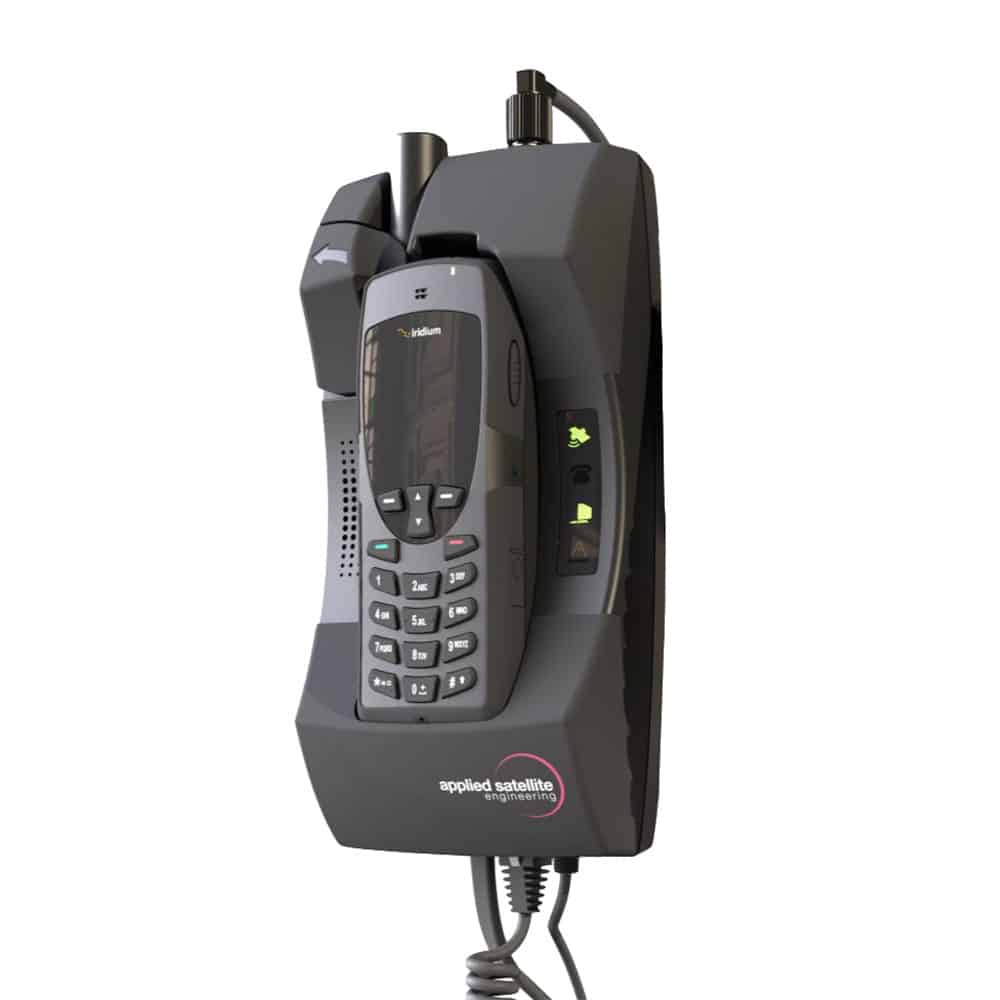 DK050 Docking Station: Iridium 9555
Blue Sky Network's docking stations enhance and protect the Iridium 9555 satellite phone through intelligent software and hardware management. The docking station provides local usage using the 9555 speakerphone or a corded intelligent handset (purchased separately). Its advanced ergonomic design, small footprint, and range of up-to-the-minute safety features place this docking station into a league of its own.
*Phone not included.
Details

Intelligent features include advanced tone management to provide the operator with system status and "smart dialing" to eliminate confusion when using country code variations. Other intelligent hardware and software features include power-on and power-down management and USB connection for data transfers. Blue Sky Network's docking stations also support live docking and undocking with bright illuminated status icons to show calling progress, satellites in view, and data transmissions. The status icon indicates when the Iridium 9555 is not properly docked. ASE docking stations provide a secure locking mechanism and protect the Iridium 9555, yet the phone can be removed almost instantly for situations that require "grab-and-go" scenarios. Together, the Iridium 9555 and Blue Sky Network docking station offer an unsurpassed package of unprecedented reliability, superior intelligence, and rugged integrity.
Features

Ergonomic body-lock provides secure handset protection and restraint
Simple operation with clear status indicators
Supports intelligent privacy handset
Text messaging and enhanced Smart Dialing
Electronics embedded in cradle for single-piece installation
Built-in charger to keep the 9555 battery charged and ready for use
Base-station ringer provides audible ringing to alert of incoming calls
Swivel mount hardware accessory (optional)
Secure rotational capture mechanism
Bright, large diagnostic indicators
Pass through USB connector to 9555 phone
Stable firmware for minimal-to-no upgrades needed
Use with passive or active antennas (check cable distance)
Can be programmed for health monitoring
Technical Specifications

Size: 9.75 in. x 5.50 in. x 3.25 in.
Weight: 1.4 lbs
Operational temperature: -150⁰C to +700⁰C
Input voltage: 9 – 36 VDC unregulated
Power consumption: 12 watts peak in.
Exposure: Dry, protected location per IEC 60945
Direct wall mount or docking station universal mounting kit with privacy handset (optional).
Ports: USB, privacy handset, power
Documentation
Blue Sky Network is ready to help ensure you are able to connect reliably and with confidence. Have questions about how our solutions can help meet your connectivity needs? Contact us today
Purpose built for these key industries
We offer reliable, custom-design solutions powered by the world's most advanced network to solve any connectivity challenge across land, sea, and air.
Exploration & Research

Seamless connectivity that facilitates rapid data transfer, crew safety in the field, and optimal exploration and research outcomes.

Global Government

Enabling strategic decision-making, secure tactical correspondence, and operational efficiency across government and military missions.

Humanitarian & Aid

Communicate with personnel delivering essential supplies in high-conflict zones, monitor assets and response teams, and determine more strategic resource distribution.

US Government

For operational efficiency, enhanced asset safety, and real-time situational awareness for U.S. government and military success.

Business Continuity

Eliminate downtime and maintain communications that allow your business to run smoothly no matter the challenge.

Disaster Relief

Communication solutions that enable emergency management teams to provide greater and more strategic disaster recovery relief.

First Responders

Hardware, software, IoT trackers, and dashboard solutions that offer advanced connectivity, remote monitoring and sensing for first responders.

Mining

Manage uncrewed mining systems, including autonomous mining vehicles, drilling equipment, and haulage.

DC Power Cable to be used with 9555 Docking Station and ComCenter II
Learn More
The Blue Sky Network Advantage

Unprecedented Global Coverage
World-class solutions powered by Iridium's cutting-edge satellite infrastructure deliver seamless connectivity and total asset visibility, no matter how far off the beaten path your operations take you.

Global, solutions-driven team leveraging deep industry expertise to engineer advanced solutions trusted by governments, NGOs, and blue chip companies to connect, track, and secure their most valuable assets.

Intuitive, all-in-one solutions
Small form factor hardware and innovative cloud-based software are custom-designed and packaged to offer real-time communications and insightful analytics for your precise operational, device, network, and app needs.