A handheld messaging and personal tracking device that operates in either single-mode or dual-mode with the Iridium satellite system and/or local cellular networks.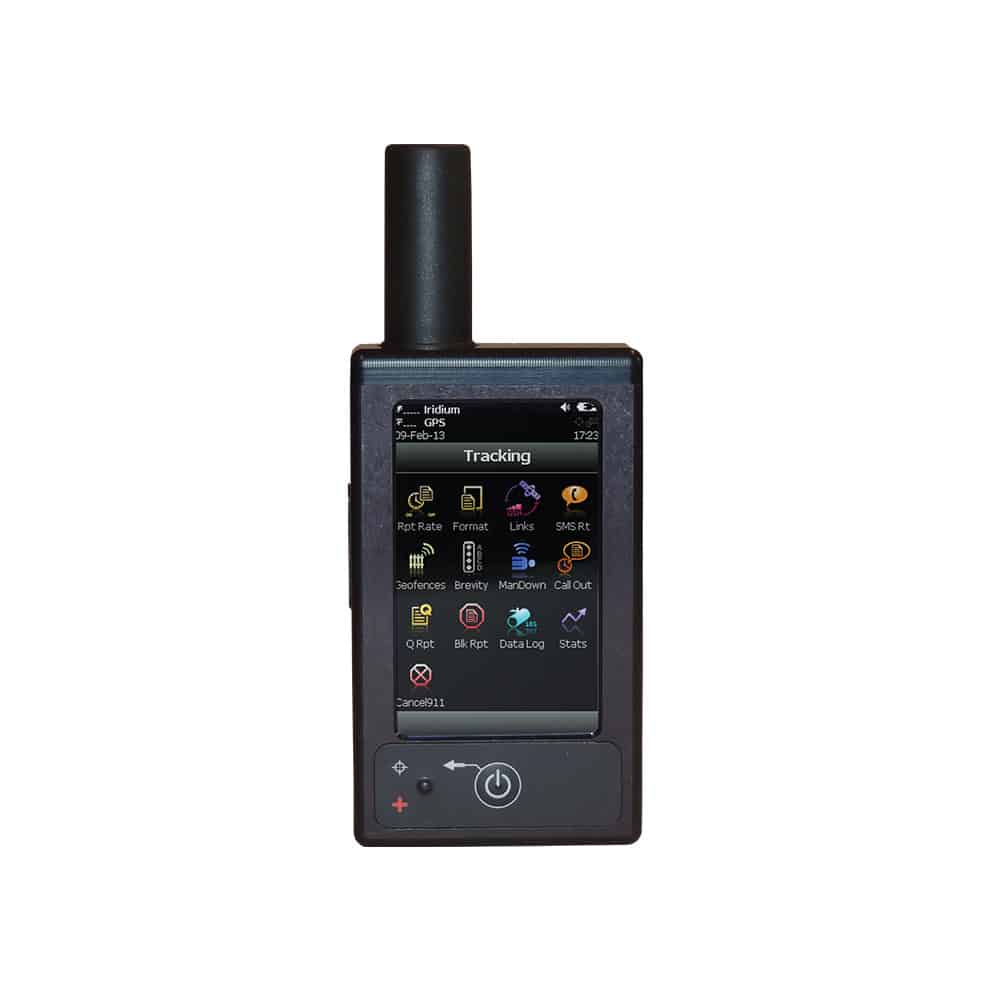 The SHOUT 3G is a GPS Tracking device that provides dual-mode connectivity and harnesses the power of the Iridium Satellite network and GSM satellite tracking to ensure the safety and constant communication of fleets or persons dispersed in remote locations while providing cost-efficient data service. When used in combination with SkyRouter, the SHOUT 3G offers portable tracking and fleet management of any aviation, land, and marine asset – in real-time from anywhere in the world with pole-to-pole coverage.
Details

The SHOUT 3G utilizes GPS tracking to locate the exact position of fleets and two-way SMS and free form messaging to allow users to remain in constant contact with command centers. Device control is now made easy with the integration of a new touchscreen interface. The SHOUT 3G transmits location information, inbound and outbound status, text messaging, and emergency/alert notifications. The SHOUT 3G is designed with ultra-low power consumption and can send a position report every hour for up to two months (about 1,600 reports). It is equipped with a resistive high-resolution color touchscreen that can be used while wearing gloves and supports transmission of both free-text and canned messages. A 911 button can be used for immediate emergency/alert notifications.
Features

Iridium satellite and GSM cellular (Dual-Mode)
Utilizes New SkyRouter cloud-based web portal
Touchscreen LCD user interface
Supports two-way SMS and free-form messaging
Guarded quick position (QPOS) button
USB interface for charging
Supports Bluetooth for device configuration
Rechargeable Lithium-Ion battery
Lightweight 7.8 ounces
Small form-factor: 4.1" x 2.3" x 0.9"
1 Year warranty
Technical Specifications

Dimensions: 4.1″ x 2.3″ x 0.9″ (104 mm x 58 mm x 23 mm)
Weight: ~7.8 ounces (221 g)
Data/Power interface: USB and Bluetooth
Display: Resistive touchscreen (can be used with gloves)
Guarded QPOS push button
Enclosure: Hard-anodized aluminum (EMI/EMC shielded)
Input Voltage Range: 2.7VDC to 5.5VDC (standard USB)
Battery: 1.95 A-Hr rechargeable Lithium-Ion
Sleep Mode: < 35uA in between reports
Transmission Mode: 1.12mA-Hr per report
Operating Temperature: 22°F to 158°F (30°C to 70°C)
Operating Humidity: < 75% RH
Documentation
Blue Sky Network is ready to help ensure you are able to connect reliably and with confidence. Have questions about how our solutions can help meet your connectivity needs? Contact us today
Purpose built for these key industries
We offer reliable, custom-design solutions powered by the world's most advanced network to solve any connectivity challenge across land, sea, and air.
Mining

Manage uncrewed mining systems, including autonomous mining vehicles, drilling equipment, and haulage.

Oil & Gas

Conducting projects in the field, monitoring coastline operations, or conducting marine research, track and manage your uncrewed assets for visibility and safety.

Renewable Energy

Drive meaningful action in reaching global net zero goals by tracking and monitoring electric vehicles, building automations, and solar, wind, and energy storage.

Utilities

Maintain real-time insights while remotely conducting powerline and pipeline surveillance and managing plant performance.

Agriculture

Easily monitor autonomous farming equipment and vehicles in the field for increased yields and lower operational costs.

Forestry

Global connectivity and communication solutions that enhance production for responsible and sustainable forestry outcomes.

Exploration & Research

Seamless connectivity that facilitates rapid data transfer, crew safety in the field, and optimal exploration and research outcomes.

Global Government

Enabling strategic decision-making, secure tactical correspondence, and operational efficiency across government and military missions.

The industry-leading fleet tracking and communication tool to manage your fleet, lower operating costs, and...
Learn More
The Blue Sky Network Advantage

Unprecedented Global Coverage
World-class solutions powered by Iridium's cutting-edge satellite infrastructure deliver seamless connectivity and total asset visibility, no matter how far off the beaten path your operations take you.

Global, solutions-driven team leveraging deep industry expertise to engineer advanced solutions trusted by governments, NGOs, and blue chip companies to connect, track, and secure their most valuable assets.

Intuitive, all-in-one solutions
Small form factor hardware and innovative cloud-based software are custom-designed and packaged to offer real-time communications and insightful analytics for your precise operational, device, network, and app needs.