A personal GPS tracking device that makes ensuring the safety and keeping track of workers in remote locations easy.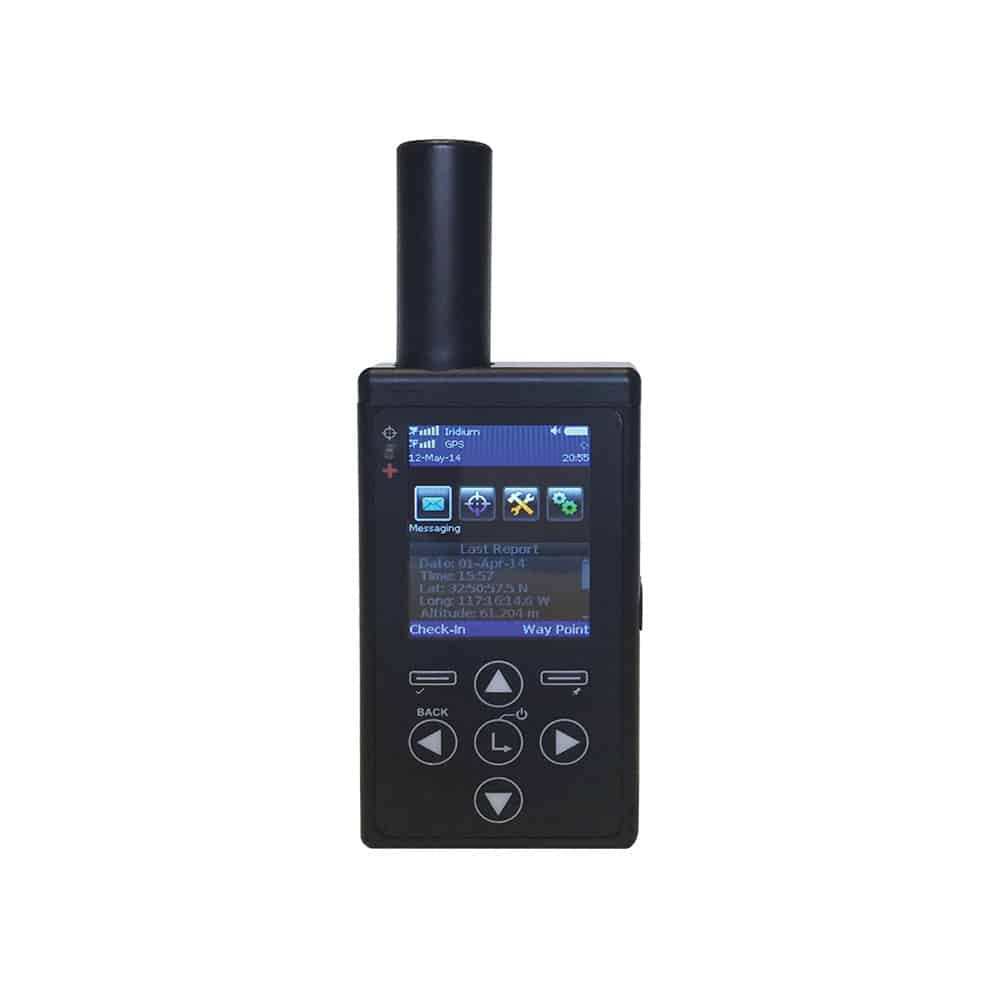 SHOUT Nano personal tracking devices are rugged, handheld, Iridium-based satellite tracking devices, tapping the complete network of Iridium low-earth-orbit satellites. No matter where personnel may be—walking oil lines in Alaska, doing geologic surveys in the desert, etc.—you can locate them and ensure their safety. It's an essential tool for every lone worker in your enterprise. The SHOUT Nano transmits all data to SkyRouter, Blue Sky Network's interactive web portal that enables immediate access to tracking data on—and communication with—every person and asset around the globe
Details

The SHOUT Nano enables two-way communication through a hi-res color LCD screen with a keyboard display. Workers in the field can easily and quickly reach out, and dispatchers can quickly redirect personnel or alert them to changing circumstances, such as weather. Additionally, the SHOUT Nano can "wake up" and send position reports automatically, and at whatever interval you require. Battery life is extensive in the SHOUT Nano tracking device. For example, you can send more than 1,200 personnel tracking reports on a single battery charge.
Features

Low-cost portable GPS personal tracker and two-way messaging device
Handheld, rugged, always reliable
Lightweight: only 6.5 ounces
Compact: 4″ x 2.2″ x 0.8″
Send messages from SkyRouter to each PT
Ultra-low power consumption
Automatic position reports (>1200 on one battery charge)
QPOS
Flip-guarded panic button
Waypoint soft key (easily mark points of interest/danger)
Check-in soft key
Able to send 300-character e-mail messages
Real-time, pole-to-pole coverage
Easy battery charging: AC adapter and USB
Over-the-air firmware upgrade option
HE100A Accessory Option includes voice capability and Bluetooth connectivity to BSN iOS Apps for messaging and forms
Technical Specifications

GPS Receiver Type: 1575.42 MHz (L1), 50 channel, C/A code
Accuracy: 2.5 m CEP
Update Rate: 4Hz
Start-up Times: < 1 second hot start; 29 second warm/cold start
Sensitivity: -160dBm
Input Voltage Range: 2.7VDC to 5.5VDC
Input Nominal Range: 4.0VDC
Power Consumption: Less that [email protected] during standby
GPS Receiver Type: 1575.42 MHz (L1), 50 channel, C/A code
Accuracy: 2.5 m CEP
Update Rate: 4Hz
Start-up Times: < 1 second hot start; 29 second warm/cold start
Sensitivity: -160dBm
Input Voltage Range: 2.7VDC to 5.5VDC
Input Nominal Range: 4.0VDC
Power Consumption: Less than [email protected] during standby
Power Input Type: External DC power or internal battery
Operating Temperature: -40°F to 185°F (-40°C to 85°C)
Operating Humidity: <75% RH
Operating Frequency: 1616 to 1616.5 Mhz
Link Margin Downlink: 13 dB average
Link Margin Uplink: 7 dB average
Average Power Transmission: 1.0 W
Documentation
Blue Sky Network is ready to help ensure you are able to connect reliably and with confidence. Have questions about how our solutions can help meet your connectivity needs? Contact us today
Purpose built for these key industries
We offer reliable, custom-design solutions powered by the world's most advanced network to solve any connectivity challenge across land, sea, and air.
Agriculture

Easily monitor autonomous farming equipment and vehicles in the field for increased yields and lower operational costs.

Forestry

Global connectivity and communication solutions that enhance production for responsible and sustainable forestry outcomes.

Fishing & Workboat

Advanced connectivity for optimal fishing production & increased safety at sea

Merchant Shipping

Enable real-time vessel tracking, enhanced crew and cargo safety, and heightened productivity, from port to final destination.

Exploration & Research

Seamless connectivity that facilitates rapid data transfer, crew safety in the field, and optimal exploration and research outcomes.

Global Government

Enabling strategic decision-making, secure tactical correspondence, and operational efficiency across government and military missions.

Humanitarian & Aid

Communicate with personnel delivering essential supplies in high-conflict zones, monitor assets and response teams, and determine more strategic resource distribution.

US Government

For operational efficiency, enhanced asset safety, and real-time situational awareness for U.S. government and military success.

Delivers mission-critical communications from any location on the planet, with the added protection of a...
Learn More
The Blue Sky Network Advantage

Unprecedented Global Coverage
World-class solutions powered by Iridium's cutting-edge satellite infrastructure deliver seamless connectivity and total asset visibility, no matter how far off the beaten path your operations take you.

Global, solutions-driven team leveraging deep industry expertise to engineer advanced solutions trusted by governments, NGOs, and blue chip companies to connect, track, and secure their most valuable assets.

Intuitive, all-in-one solutions
Small form factor hardware and innovative cloud-based software are custom-designed and packaged to offer real-time communications and insightful analytics for your precise operational, device, network, and app needs.