The Iridium Edge® Solar is a standalone and programmable solar-powered Short Burst Data (SBD®) device that offers real-time GPS tracking, a local wireless sensor, and communication capabilities over Bluetooth.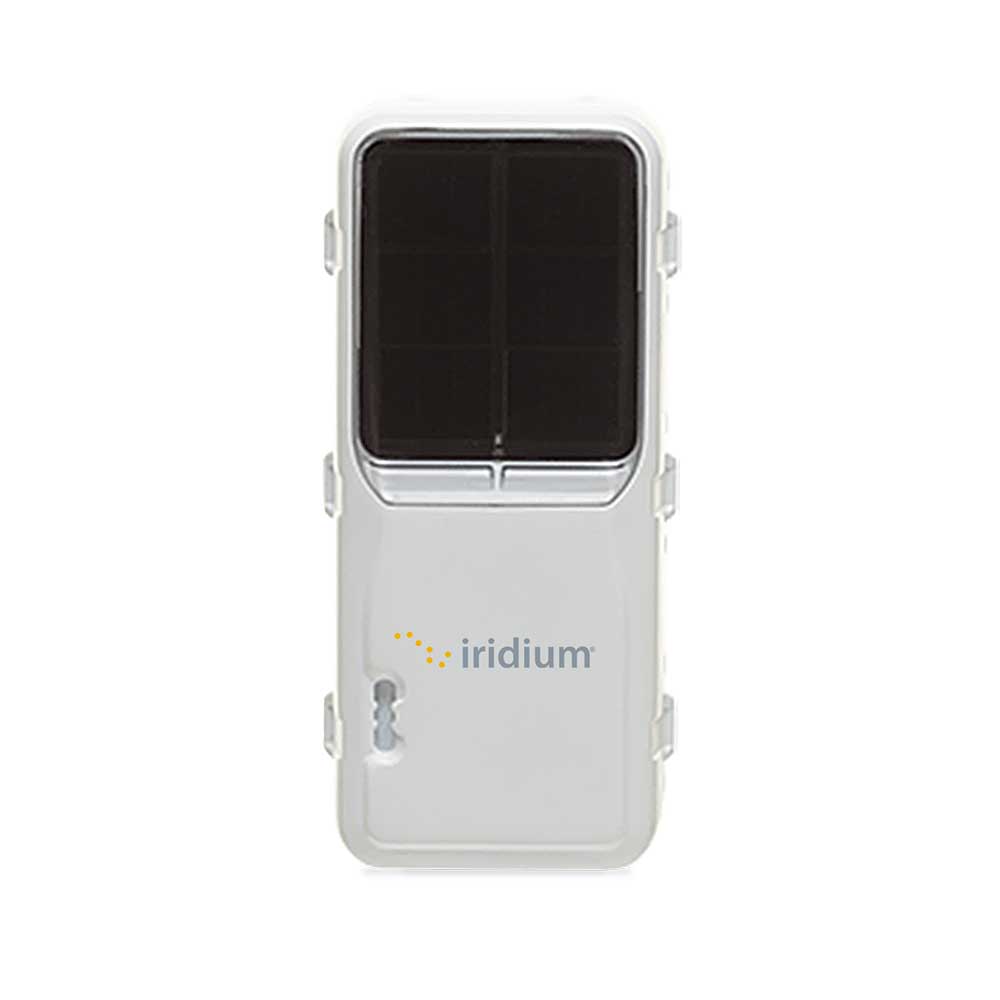 The Iridium Edge® Solar is a standalone and programmable solar-powered Short Burst Data (SBD®) device. Its self-charging, low-maintenance, long field life, and over-the-air configuration allow for distinct tracking applications that can be implemented to create complex solutions for GPS tracking and communications.
Details

With a ruggedized design, plus two-way communications with remote configuration capability, the The Iridium Edge® Solar is an ideal solution for land and sea operations.
Features

Bluetooth capability for wireless sensor integration and local device connectivity
Over-the-air configuration changes
Scheduled and interval-based reporting modes
Start/stop reporting and in-motion reporting options
Fully encapsulated, no external connectors needed
Water Ingress protected
Accelerometer and magnetometer
LED status indicator
Iridium Short Burst Data® (SBD®) modem for Iridium's superior network advantages
Technical Specifications

Environmental

Operating Temperature Range: -40°F to 185°F
Recommended Storage Temperature: Store below 90°F
Ingress Protection: IP68
High Temperature Resistance: MIL-STD-810G:501.5, IEC60068-2-2 to 185°F
Low Temperature Resistance: MIL-STD-810G:502.5, IEC60068-2-1 to -58°F
Combined Thermal and Humidity Exposure: MIL-STD-810G:507.5, 20-95% RH up to 140°F
Solar Radiation Exposure: UL746C F1, ASTM-G154 to 1.0 yr
Salt Fog Exposure: MIL-STD-810G:509.5 IEC60068-2-11 to 1000 hrs
Combined Operational Temperature and Altitude: MIL-STD-810G:500.6 to 15000 ft
Thermal Shock: MIL-STD-810G:503.5, 20 cycles between -40°F to 185°F < 1 min transition
Impact Resistance: ASTM D3763
Operational Vibration: MIL-STD-810G:514.7, IEC60068-2-80 to 7.5 Grms Random (5Hz-2000Hz)
Mechanical Shock: MIL-STD-810G:516.7 to 300Gpk

Mechanical

Dimensions: 6.46 in x 2.8 in x 1.3 in (L x W x H)
Weight: ~1 lb

Power Management

Photovoltaic solar cells, rechargeable and primary batteries
Smart power management system
Up to 3-year shelf life
Up to 10-year operational service life
Back-up battery capacity provides 2x per day reporting for up to 5 years with no solar availability

Certifications

Brazil: ANATEL Resolucao N° 506 e Resolucao N° 442
Australia/New Zealand: RCM – CISPR22
Mexico: IFITEL, NOM121
Documentation
Blue Sky Network is ready to help ensure you are able to connect reliably and with confidence. Have questions about how our solutions can help meet your connectivity needs? Contact us today
Purpose built for these key industries
We offer reliable, custom-design solutions powered by the world's most advanced network to solve any connectivity challenge across land, sea, and air.
Business Continuity

Eliminate downtime and maintain communications that allow your business to run smoothly no matter the challenge.

Disaster Relief

Communication solutions that enable emergency management teams to provide greater and more strategic disaster recovery relief.

First Responders

Hardware, software, IoT trackers, and dashboard solutions that offer advanced connectivity, remote monitoring and sensing for first responders.

Mining

Manage uncrewed mining systems, including autonomous mining vehicles, drilling equipment, and haulage.

Oil & Gas

Conducting projects in the field, monitoring coastline operations, or conducting marine research, track and manage your uncrewed assets for visibility and safety.

Renewable Energy

Drive meaningful action in reaching global net zero goals by tracking and monitoring electric vehicles, building automations, and solar, wind, and energy storage.

Utilities

Maintain real-time insights while remotely conducting powerline and pipeline surveillance and managing plant performance.

Rail

Advanced connectivity and real-time fleet tracking for efficient, more productive train and locomotive fleet services.

Enables Wi-Fi connectivity for select messaging, email, and app usage, as well as simultaneous access...
Learn More
The Blue Sky Network Advantage

Unprecedented Global Coverage
World-class solutions powered by Iridium's cutting-edge satellite infrastructure deliver seamless connectivity and total asset visibility, no matter how far off the beaten path your operations take you.

Global, solutions-driven team leveraging deep industry expertise to engineer advanced solutions trusted by governments, NGOs, and blue chip companies to connect, track, and secure their most valuable assets.

Intuitive, all-in-one solutions
Small form factor hardware and innovative cloud-based software are custom-designed and packaged to offer real-time communications and insightful analytics for your precise operational, device, network, and app needs.