Passive Antennas: Iridium
Use with the Iridium 9505A or 9555 satellite phones to deliver exceptional reception performance for permanent in-building or marine applications.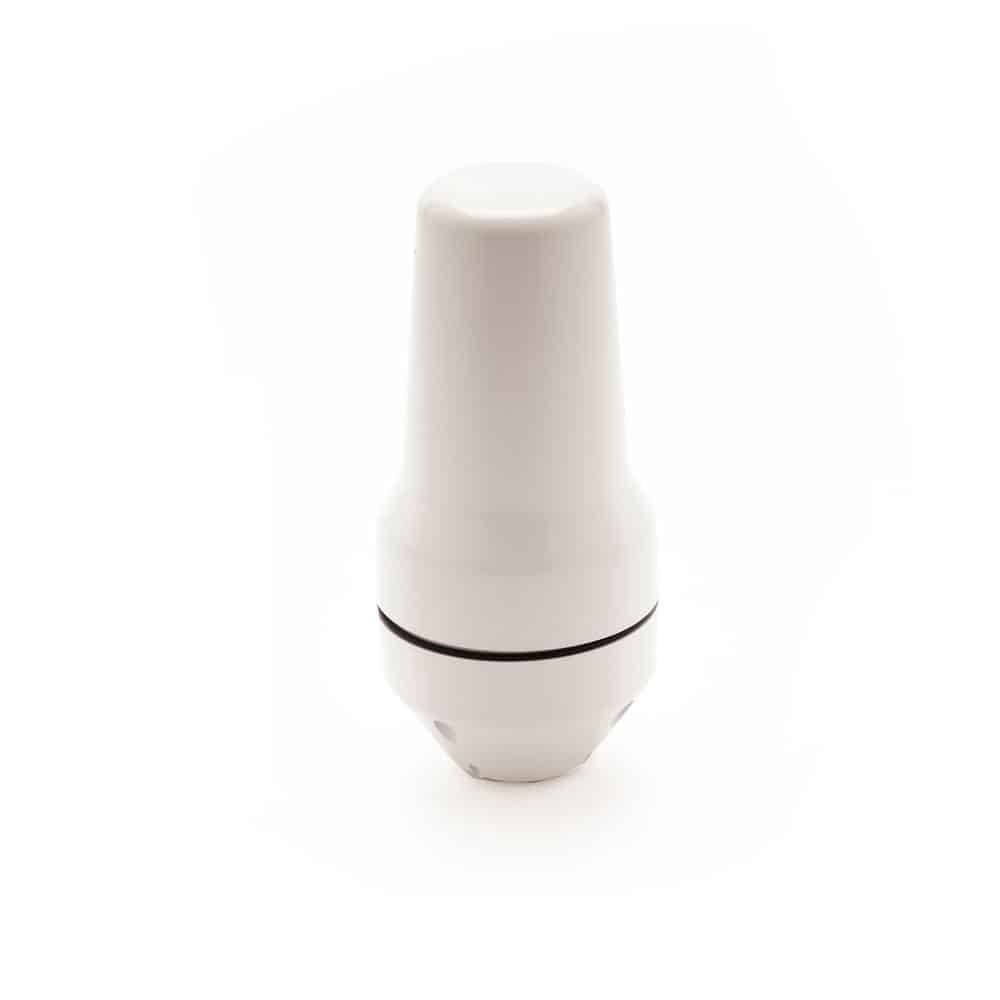 Passive Antennas: Iridium
Iridium satphones were designed to operate with a passive antenna, either an element attached directly to the handset, or a remote aerial connected with a short length of coaxial cable. Passives can work up to 20 meters (65 feet) with Iridium depending upon the cable used and the connectors.
Details

A signal loss of more than 3dB in a remote antenna's connecting cable degrades performance due to attenuation of both the received and transmitted signals.  A 3dB loss corresponds to approximately 20m of LMR600 or 6m of LMR240 coaxial cable, lengths that clearly restrict the mounting options for the antenna using standard down-leads.
Features

Use with any Iridium Satellite Phone or Dock
Completely sealed and contains no moving parts
For Threaded Pipe Mounting or Additional Mount
Ideal for marine or in-building use
Technical Specifications

Dimensions (excl. mounting bracket): Length: 18.7cm (7.4"), Diameter: 7.6cm (3")
Weight (excl. mounting bracket): 311.85g (11 oz)
Operating Temperature: -40° to +85° C
Antenna Head Connection: TNC female
Frequency: 1616 – 1626.5Mhz
Polarization: Right Hand Circular
Antenna Type: RHCP Dipole
Antenna Gain (dBic): 0.0 dBic
Return Loss (minimum): 0.4dBic: 0° = 0°m, 1.4dBic: 0° < Zenith < 45°, -0.25dBic: 75° < Zenith < 82°
Radiation Pattern: 9.5 dB (<2.0:1 VSWR)
Documentation
Blue Sky Network is ready to help ensure you are able to connect reliably and with confidence. Have questions about how our solutions can help meet your connectivity needs? Contact us today
Purpose built for these key industries
We offer reliable, custom-design solutions powered by the world's most advanced network to solve any connectivity challenge across land, sea, and air.
Business Continuity

Eliminate downtime and maintain communications that allow your business to run smoothly no matter the challenge.

Disaster Relief

Communication solutions that enable emergency management teams to provide greater and more strategic disaster recovery relief.

First Responders

Hardware, software, IoT trackers, and dashboard solutions that offer advanced connectivity, remote monitoring and sensing for first responders.

Fishing & Workboat

Advanced connectivity for optimal fishing production & increased safety at sea

Merchant Shipping

Enable real-time vessel tracking, enhanced crew and cargo safety, and heightened productivity, from port to final destination.

Lightning Arrestor for Active Antenna with N-Type Connector
Learn More
The Blue Sky Network Advantage

Unprecedented Global Coverage
World-class solutions powered by Iridium's cutting-edge satellite infrastructure deliver seamless connectivity and total asset visibility, no matter how far off the beaten path your operations take you.

Global, solutions-driven team leveraging deep industry expertise to engineer advanced solutions trusted by governments, NGOs, and blue chip companies to connect, track, and secure their most valuable assets.

Intuitive, all-in-one solutions
Small form factor hardware and innovative cloud-based software are custom-designed and packaged to offer real-time communications and insightful analytics for your precise operational, device, network, and app needs.