The VesseLINK satellite communications system provides 100 percent global coverage for critical maritime operations, anywhere on the planet.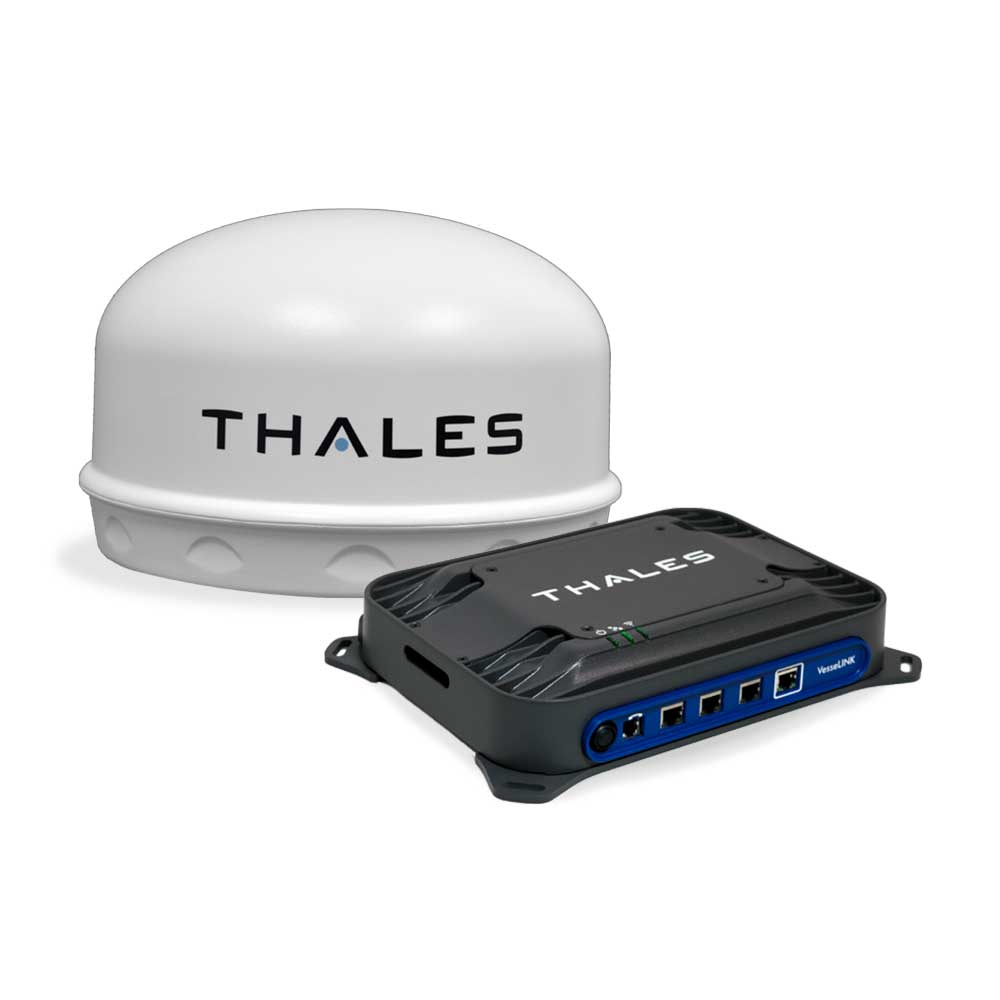 VesseLINK  provides 100 percent global coverage for critical maritime operations even in the most remote parts of the world. It is also the first of its kind to deliver broadband capabilities and low-latency voice and data for real-time communication.
Details

VesseLINK on Iridium can support a variety of maritime operations, including: large commercial fishing fleets; maritime law enforcement; research vessels; ocean charters; and shipping. This versatile and robust commercialized military-grade solution is designed to meet the unique needs of various maritime industries with a simple, robust design.
Features

Robust Communications: 4G LTE ready, softphone capabilities, embedded 802.11b/g Wi-Fi access point, up to 256 kbps streaming, and three dedicated voice lines offer a variety of platforms to stay connected.
Enhanced Safety: Enhanced at-sea reporting, service logging, crew connectivity, system and cargo monitoring, location tracking, and real-time weather reports keep you up to speed on operational status.
Rugged: A durable, low-profile, adaptable design with salt and fog corrosion protection make VesseLINK the ideal communications solutions for prolonged operations at sea.
User Friendly: An easy to use interface, remote operation, ruggedized Android tethered handset, and multiple user capability (up to 12 connected devices) ensure quick integration into existing vessels or new fleets.
SkyRouter: The SkyRouter™ portal allows cloud-based plus on-premises command and control utilizing a ruggedized, standalone server. The SkyRouter app is available on iOS and Android devices for fleet management on the go.
Overlays: Built-in overlay (MGRS, weather maps) and custom form (cargo manifests, incident reports) capabilities. BSN solutions offer full interoperability for data push and pull.
Technical Specifications

Dimensions: 30.5 cm x 22.9 cm x 7.6 cm
Weight: 3.4 kg
Operating Temperature: -30°C to +55°C
Communications Interface: RJ-45 LAN (3) Class 2 PoE; RJ-45 WAN (1) for cellular connection; RJ-14 POTS; RS232
I/O and Power Interface: 12 VDC input; 11 A max
Documentation
Blue Sky Network is ready to help ensure you are able to connect reliably and with confidence. Have questions about how our solutions can help meet your connectivity needs? Contact us today
Purpose built for these key industries
We offer reliable, custom-design solutions powered by the world's most advanced network to solve any connectivity challenge across land, sea, and air.

Delivers cost-effective satellite voice and data connectivity for maritime operations, anywhere on the planet
Learn More
The Blue Sky Network Advantage

Unprecedented Global Coverage
World-class solutions powered by Iridium's cutting-edge satellite infrastructure deliver seamless connectivity and total asset visibility, no matter how far off the beaten path your operations take you.

Global, solutions-driven team leveraging deep industry expertise to engineer advanced solutions trusted by governments, NGOs, and blue chip companies to connect, track, and secure their most valuable assets.

Intuitive, all-in-one solutions
Small form factor hardware and innovative cloud-based software are custom-designed and packaged to offer real-time communications and insightful analytics for your precise operational, device, network, and app needs.