A pocket-sized, low-cost, handheld satellite tracker and messaging device with a touchscreen.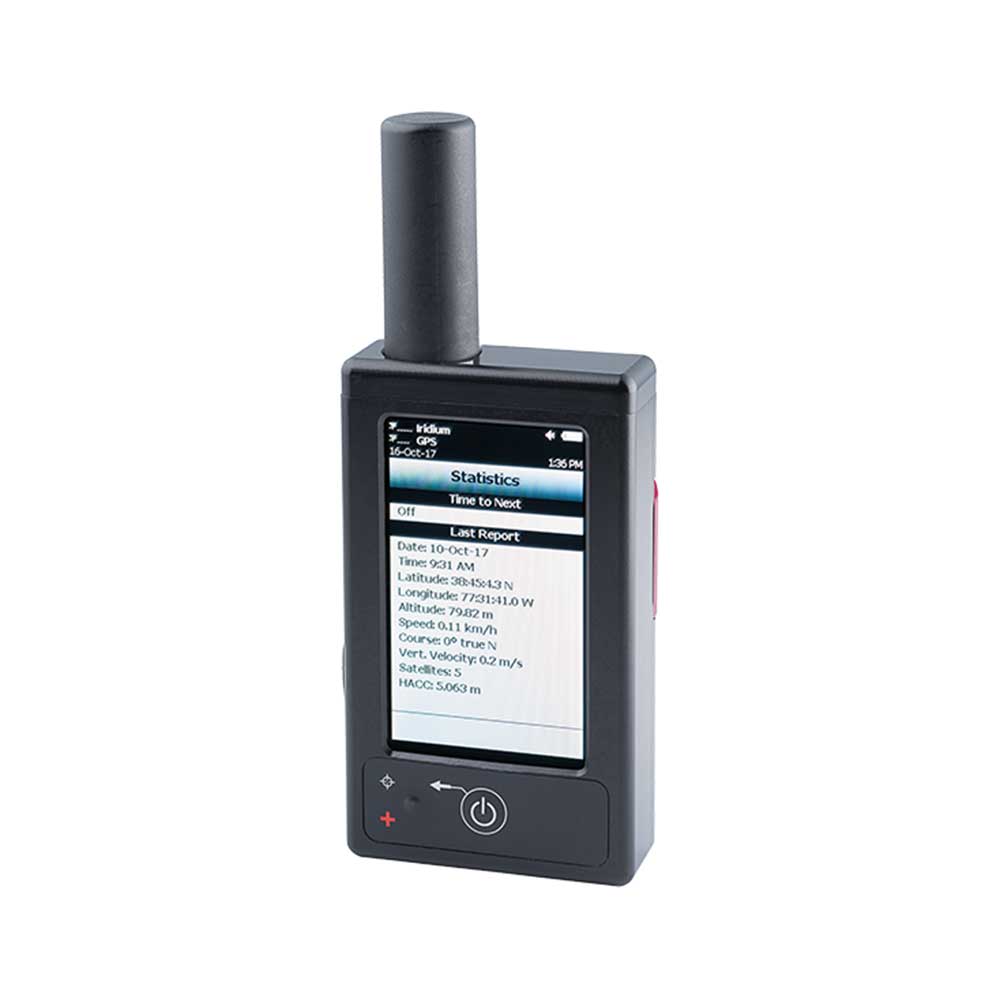 The SHOUT ts is a pocket-sized, low-cost, handheld satellite tracker and messaging device. The SHOUT ts is a SHOUT nano with a touchscreen, allowing quick access to menus and ease of text entry via on-screen soft keyboards.
Details

Similar to the SHOUT nano, the SHOUT ts is designed with ultra-low power consumption electronics, the SHOUT ts can send a position report every hour for up to two months (approximately 1,500 reports) via the Iridium® satellite network. The SHOUT ts can periodically wake up from sleep mode to send its position report to a command center. A guarded 911 button is used for immediate emergency / alert notifications. Data is packaged in either standard or 256-bit AES encrypted 10-byte, 30-byte or PECOS format.
Features

Pocket-size, self-contained satellite tracker (4.1″ x 2.3″ x 0.9″, 7.2 oz)
Ultra-low power consumption
Optional AES 256-bit encryption, both transmit/receive
Two-way Communications
Free-Text, Canned-Text and Check-In Messaging
Remote configuration with SkyRouter
Normal and Waypoint Tracking
Real-time reporting
True global coverage
Technical Specifications

Dimensions: 104 mm x 58 mm x 23 mm (4.1″ x 2.3″ x 0.9″)
Weight: 204 g (7.2 oz)
Battery: Rechargeable Li-Ion, 1.95 A-Hr Single Cell, 3.6V to 4.2V
I/O Interface: Standard USB Micro B
Software Interface: AT Commands through USB
Operating Temp: –20°C to +60°C (–4°F to +140°F)
Operating Humidity: < 75% RH
Operating Frequency: 1616.0 to 1626.5 MHz
GPS Frequency: 1575.42 MHz (L1 carrier)
Documentation
Blue Sky Network is ready to help ensure you are able to connect reliably and with confidence. Have questions about how our solutions can help meet your connectivity needs? Contact us today
Purpose built for these key industries
We offer reliable, custom-design solutions powered by the world's most advanced network to solve any connectivity challenge across land, sea, and air.
Exploration & Research

Seamless connectivity that facilitates rapid data transfer, crew safety in the field, and optimal exploration and research outcomes.

Global Government

Enabling strategic decision-making, secure tactical correspondence, and operational efficiency across government and military missions.

Humanitarian & Aid

Communicate with personnel delivering essential supplies in high-conflict zones, monitor assets and response teams, and determine more strategic resource distribution.

US Government

For operational efficiency, enhanced asset safety, and real-time situational awareness for U.S. government and military success.

Business Continuity

Eliminate downtime and maintain communications that allow your business to run smoothly no matter the challenge.

Disaster Relief

Communication solutions that enable emergency management teams to provide greater and more strategic disaster recovery relief.

First Responders

Hardware, software, IoT trackers, and dashboard solutions that offer advanced connectivity, remote monitoring and sensing for first responders.

Mining

Manage uncrewed mining systems, including autonomous mining vehicles, drilling equipment, and haulage.

Delivers mission-critical communications from any location on the planet, with the added protection of a...
Learn More
The Blue Sky Network Advantage

Unprecedented Global Coverage
World-class solutions powered by Iridium's cutting-edge satellite infrastructure deliver seamless connectivity and total asset visibility, no matter how far off the beaten path your operations take you.

Global, solutions-driven team leveraging deep industry expertise to engineer advanced solutions trusted by governments, NGOs, and blue chip companies to connect, track, and secure their most valuable assets.

Intuitive, all-in-one solutions
Small form factor hardware and innovative cloud-based software are custom-designed and packaged to offer real-time communications and insightful analytics for your precise operational, device, network, and app needs.