Land-based satellite communication solution delivering voice and data connectivity, powered by Iridum Certus®

100% Global, Dual-Mode Connectivity
Dual-mode satellite and LTE communications solution with voice and data connectivity - anywhere on Earth

Remote Monitoring & Telemetry
Maintain continuous business operations from your command center with real-time data transmissions

Low SwAP Communication Solution
Compact, lightweight terminal with seamless installation and integration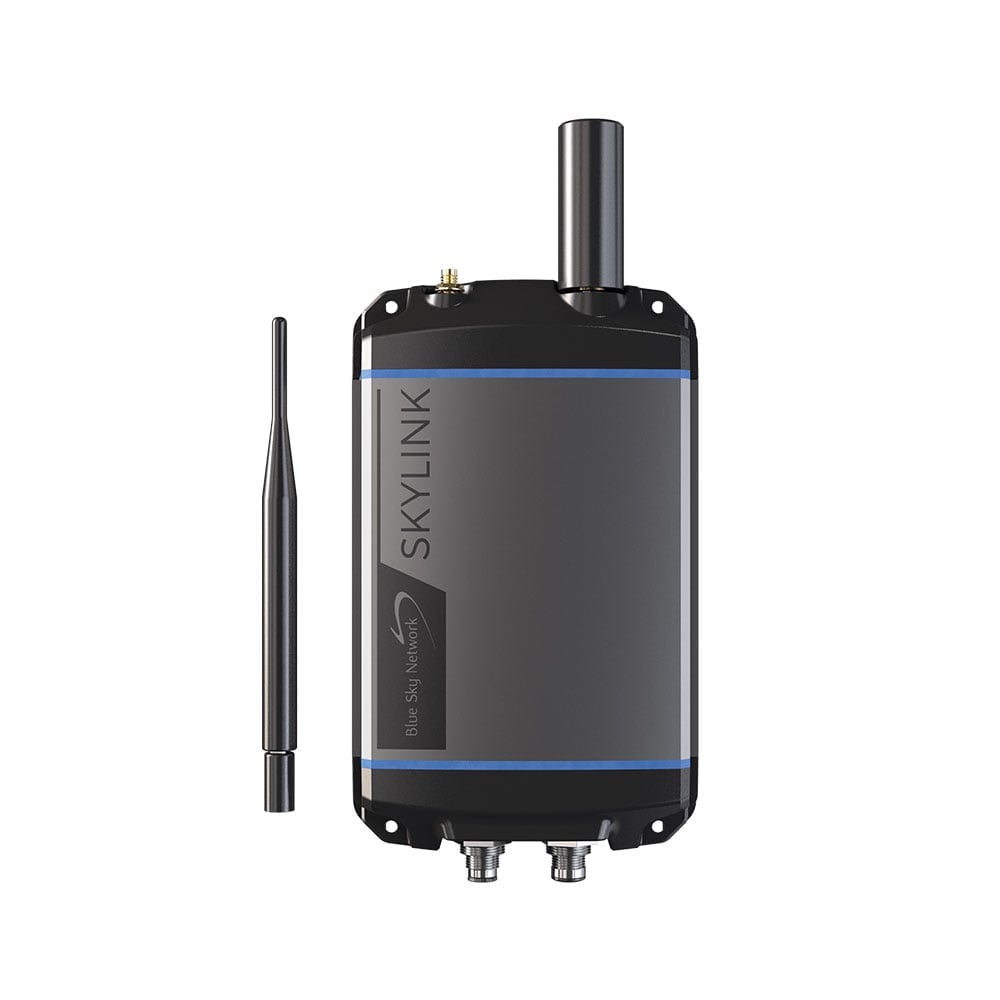 The SkyLink 5100 delivers next-generation satellite connectivity to any location on the planet. This compact and versatile communications terminal is powered by Iridium's new Certus network, providing enterprise-grade voice, remote monitoring, and data connection.
Details

As a certified Iridium Connected® product, the SkyLink 5100 is designed for complete business efficiency, safety and continuity coverage. Its slim design allows for easy mounting on fixed or mobile units to transfer real-time data from existing sensors, asset utilization and IoT/M2M monitoring tools. In the field, use this device as a portable communications and media sharing platform for mission-critical updates to and from remote and frontline workers. With the SkyLink 5100, achieve total connectivity for all assets, in every location, across the globe.
Features

HD voice
Messaging
Telemetry
Remote monitoring
Internet/VPN
Mid-band satellite data
Email
Media sharing
Asset utilization
Graphical weather
Technical Specifications

PHYSICAL

Size (dual mode data gateway): 8 x 5 x 1.5 in (12.7 x 20.3 x 3.2 cm)
Size (communications companion, optional): 8 x 5 x 1.5 in (12.7 x 20.3 x 3.2 cm)
Weight (per unit): 1.6 lb (0.7 kg)
Power source: vehicle ignition, Power over Ethernet, AC/DC adapter
Input voltage: 10 – 34VDC
Power consumption: 18W peak power, 7W nominal
Operational temperature: -40°C to +70°C
Long life backup battery for up to 48 hours of continuous power (optional)
IP65 compliant
Mounting options: vertical, horizontal, remote antenna

CONNECTIVITY

Iridium Certus 100 services: 88 kbps DL / 22 kbps UL
Cellular: LTE, 3G, 4G
Least cost routing
GNSS positioning
Wi-Fi
Local firewall
2x Iridium voice lines
Hosted applications
Configuration, status, and usage monitoring
Documentation
Blue Sky Network is ready to help ensure you are able to connect reliably and with confidence. Have questions about how our solutions can help meet your connectivity needs? Contact us today
Purpose built for these key industries
We offer reliable, custom-design solutions powered by the world's most advanced network to solve any connectivity challenge across land, sea, and air.
Mining

Manage uncrewed mining systems, including autonomous mining vehicles, drilling equipment, and haulage.

Oil & Gas

Conducting projects in the field, monitoring coastline operations, or conducting marine research, track and manage your uncrewed assets for visibility and safety.

Renewable Energy

Drive meaningful action in reaching global net zero goals by tracking and monitoring electric vehicles, building automations, and solar, wind, and energy storage.

Utilities

Maintain real-time insights while remotely conducting powerline and pipeline surveillance and managing plant performance.

Agriculture

Easily monitor autonomous farming equipment and vehicles in the field for increased yields and lower operational costs.

Forestry

Global connectivity and communication solutions that enhance production for responsible and sustainable forestry outcomes.

Rail

Advanced connectivity and real-time fleet tracking for efficient, more productive train and locomotive fleet services.

Trucking

Communication solutions that enable safe, efficient, and on-time cargo deliveries to last-mile destinations and support all land transportation operations.

Optimizes business operations by delivering essential data from any asset, anywhere
Learn More
The Blue Sky Network Advantage

Unprecedented Global Coverage
World-class solutions powered by Iridium's cutting-edge satellite infrastructure deliver seamless connectivity and total asset visibility, no matter how far off the beaten path your operations take you.

Global, solutions-driven team leveraging deep industry expertise to engineer advanced solutions trusted by governments, NGOs, and blue chip companies to connect, track, and secure their most valuable assets.

Intuitive, all-in-one solutions
Small form factor hardware and innovative cloud-based software are custom-designed and packaged to offer real-time communications and insightful analytics for your precise operational, device, network, and app needs.